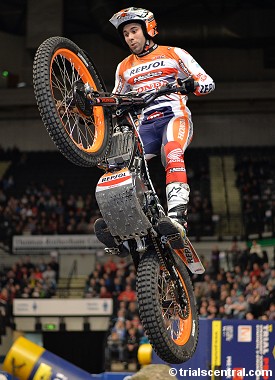 Less than a week after visiting Marseille, France the 2015 FIM X-Trial World Championship continues at pace with round three of the series set to take place in the French city of Pau this coming Friday evening. Whilst many French towns and cities have hosted the championship starting with Toulouse back in 1993, this will be the first time that the series will have visited Pau. With already eight victories on French soil in more recent years, including his latest dominant win in Marseille last weekend, Toni Bou – Repsol Honda will be looking to extend his twenty-eight event winning run indoors later this week.

With just two rounds out of six completed Bou has already carved out a thirteen point advantage over his nearest and familiar rivals in the current general standings and will hope to increase this further as the series marks its mid point in Pau before a month long break until the next round. Following the second event in France the series will then move on to Barcelona, Spain in early March. This will mark the start to an intensive closing period that will see three rounds in three weeks, with visits to Wiener Neustadt, Austria and Oviedo, Spain defining the last two events of the 2015 series.

Behind Bou, the fierce and eternal battle between Adam Raga – Gas Gas and Albert Cabestany – Sherco continues with as much intensity as ever. Whilst Cabestany took the upper hand at the opening encounter in Sheffield, Great Britain it was Raga who bit back in Marseille, France to take the runners-up spot to Toni someway ahead of his archrival. The thirty plus Spanish duo are tied on twenty-seven points apiece in the championship table, and will no doubt resume their bitter fight against each other in Pau on Friday, whilst also trying to stop Bou moving further clear at the head of the standings.

Two consistent top four placings at the opening two rounds currently puts Jeroni Fajardo – Beta in fourth spot in the title race. So far on each occasion Fajardo has played nothing more than a supporting role in the two all Spanish finals in Sheffield and Marseille and will have to up his game if he is to gain his first podium position of the season in Pau on Friday evening. In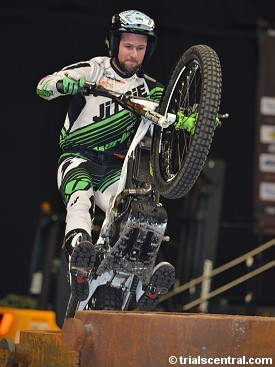 Marseille Jeroni endured a difficult time in the final with five failures in the first five sections, before he cleaned the final hazard to avoid a full house of fives. Hopefully this time out Fajardo can regain his confidence and challenge at least for a top three spot.

Alexandre Ferrer – Sherco has really shone at both Sheffield and Marseille, and has been rewarded with two well deserved fifth places that leave him fifth in the general standings as the series heads towards its mid-point. Ferrer will be aware that one silly mistake, when he missed the ends gates in the second section last weekend, robbed him of a place in the final. If Alexandre can produce the same level of performance in Pau and use the home support to his advantage once again, he just might be the rider to break the Spanish deadlock in terms of finalists.

One man with work to do is James Dabill – Vertigo after his disastrous showing in Marseille due to circumstances beyond his control. A broken rear suspension bolt and a spare bike lacking fuel cost the British rider dearly despite him and the new Vertigo machine promising so much. Dabill will be desperate to re-establish himself higher up the order and at least in front of returning wild card rider Loris Gubian – Gas Gas who beat him by a single mark last Saturday night. Rookie Eddie Karlsson – Montesa continues to give 110% and to learn from his first year as part of the series.