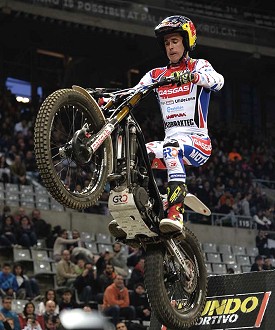 The 2015 FIM X-Trial World Championship moves to Wiener Neustadt, Austria this coming Saturday as the series reaches it penultimate stop in the six round campaign that started in Sheffield, Great Britain back in early January and will conclude next week in Oviedo, Spain. After his victory in Barcelona, Spain just last Sunday Toni Bou – Repsol Honda will arrive in Austria to do battle with the other six fixed riders and one wild card entrant, comfortable in the knowledge that he has a thirteen point lead over his nearest rival Adam Raga – Gas Gas.

In the last two rounds hosted in Pau and then Barcelona, Bou and Raga have been in a class of their own and as such have set themselves apart from the chasing pack at the head of the general standings. Bou has managed three wins from four starts to date, with only Raga bringing to a close his five-year winning run when he took to the top step in Pau. Raga will be only too aware that he will again need to be at his absolute best if he is to close the gap on Bou in Wiener Neustadt and take the title fight to the wire back in Spain a week later.

Albert Cabestany – Sherco completed the rostrum at round four, this marking his third top three placing in the campaign to date. The veteran challenger made amends for slipping off the podium in Pau with a spirited and gritty performance in Barcelona despite a badly swollen and bruised ankle sustained in a training crash just a few days before the competition. At the moment Albert sits in a safe third position in the championship table, but he will not want to miss the chance to hunt down his arch rival Raga as the action shifts to Austria this coming Saturday.

A mistake in the final section last Sunday ended up costing Jeroni Fajardo – Beta his second podium placing in a row and as a result of his third fourth place in the series thus far he sits nine points behind Cabestany with just two events to go. Although Fajardo may take heart in the fact that he has featured in every final during the first four rounds of the 2015 FIM X-Trial World Championship, he will also recognise that he needs to find something extra if he is to seriously challenge his Spanish compatriots on a more regular basis.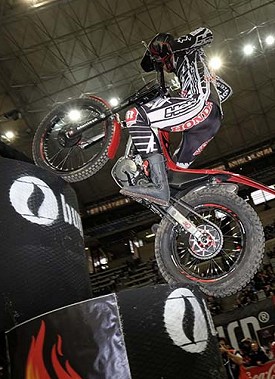 France's lone representative in the series Alexandre Ferrer – Sherco remains fifth in the general rankings despite suffering his worst showing to date last time out in Barcelona. At the close of qualification in what proved to be a tough test for all the riders, Ferrer found himself part of a four-way tie decider. The French rider was to end his night in the ex Olympic arena with the second slowest time in the speed section, which demoted him down to seventh spot. No doubt Alexandre will seek to avenge this result in Austria come Saturday night.
Sweden's Eddie Karlsson – Montesa in contrast gained his best result in the 2015 FIM X-Trial World Championship with an excellent fifth place, much thanks to his speed over the ground during the tiebreak scenario that played out last Sunday. This was a worthy reward for the entertaining young Scandinavian rider after he made some brave attempts in the difficult hazards earlier in the event. Britain's James Dabill's – Vertigo sixth spot in Barcelona matched his previous best result this season, which he gained in Sheffield. Dabill now has just two rounds to try and catch and over take Ferrer in the overall standings in order to claim a top five ranking, which would be an incredible feat for him aboard the all-new machine.

Runner-up in the 2014 FIM Trial World Cup, Franz Kadlec – Beta will take his place for the first time in the series alongside the World's elite, as he becomes the latest wild card rider to enter the affray.