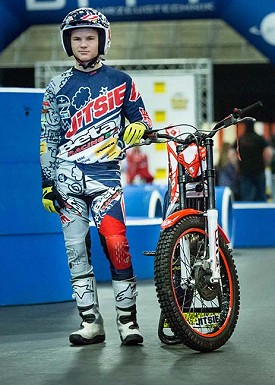 Seventeen year old Franz Kadlec – Beta will make his debut in the FIM X-Trial World Championship, as the German teenager joins the normal cast of fixed riders for round five of the 2015 series to be held in Wiener Neustadt, Austria this coming Saturday. As runner-up in the 2014 FIM Trial World Cup to Jaime Busto – Repsol Honda, who made his own debut as a wild card entrant in the series yesterday afternoon in Barcelona, Spain – Kadlec has more than earned his right to line up alongside the absolute elite of the sport despite his tender years.

Franz's achievement in last year's FIM World Cup did not come in isolation, with the youngster managing to win the 2014 European Championship against strong opposition to add to the international Youth title he had claimed at the same level a year earlier. The Beta rider rounded off a fantastic 2014 season by also taking his national German title for the first time, but probably not the last time.

Showing few real signs of being fazed by the pending occasion, Kadlec who was born in Bad Tolz, Germany on 4th April 1997 spoke confidently ahead of this Saturday's competition. "Since the end of last season I have been training hard in Spain as well as working on my physical condition. 2014 was a good year, but I want 2015 to be even better.

Getting the news about my wild card entry at Wiener Neustadt certainly made me happy, but nervous at the same time when I realised who I would be competing against and just how many people will be inside the arena watching."

"Being able to ride in the German indoor series in more recent months has certainly helped me, to get used to riding in front of a big crowd and to also gain some experience on the artificial sections. So now I feel less nervous about what is coming than before. I have been working more on steps and indoor sections to be ready, and this with the training I made in Spain should help me I hope."

"It's almost strange that Jaime and me will make our debuts in the FIM X-Trial World Championship so close together. I didn't want to follow too closely his result as maybe it would make me more nervous, so instead I just chose to focus on my own training."

"I want to be realistic about what result I can get, as the other riders are the best in the World and have so much more experience than me in this type of competition. I will just try to do my best and will try not to injure myself. I am sure the crowd will give me lots of support, so overall despite being a little nervous I am also looking forward to it very much."
"I will have Jan Ammon with me as minder in Wiener Neustadt, he will be my minder all season, so I am sure as a team we will work well together."
Franz finished up by saying. "This is a big moment for me, and I want to say a big thanks to everyone who has made this possible!"