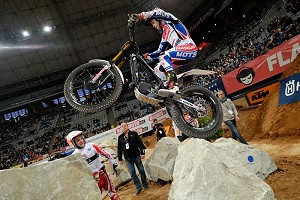 Encouraged by the fans who filled the stands of the Palau Sant Jordi as the X-Trial World Championship paid a visit to Barcelona, Adam Raga starred in a great performance in front of the public. The Gas Gas rider concluded a great weekend trial with a second place in Barcelona after fighting to the last section for a victory, and in the end only four points separated him from the winner.
Without problems, he was able to take direct passage to the final with the four best riders, Adam Raga was responsible for opening the six sections that would decide the final positions on the podium. With the 'handicap' of opening the sections, without seeing prior references of the other riders passing through the demanding sections of the Barcelona test, an error in the first container section was a 'five' for the Gas Gas rider. However, Ragarecovered and kept his concentration, giving-up only one point in the following two sections.
Adam Raga pressed his rivals past the fourth sections and added two points in the fifth, before facing the decisive sixth and final. A section in which the Gas Gas rider did not fail, but ultimately could not cut the differences. Only four points separated him from the final victory, a result that maintains the line of good performances for the Tarragona rider, winner of the previous round that was held in the French town of Pau, in early February.
After this second place in one of the most demanding events on the indoor schedule, and with only two rounds remaining, (Austria and Oviedo, Spain), With 62 points, Adam Raga has consolidated his second place position in the X-Trial World Championship overall standings, thirteen behind the leader.
Adam Raga: "Today we had a good performance. Since the first round we rode very fine and then in the end, I made a five in the first zone, with the handicap of going out first. Finally, we have been separated by only four points from victory. We must be very happy because we are in a good line of results. Sometimes you win and sometimes second, but I repeat that I think we should be satisfied with the way we're riding, because today we could have won if we had done perfectly, but my opponent has done well and those four points have finally made the differences. Having to open the sections has affected me, especially in the first section, a very complicated test. Maybe, if I could have seen someone else do it, I would have had more reference, but that's no excuse. I'm happy with how everything went and how well the bike has ran. Now we go forward and keep this line."