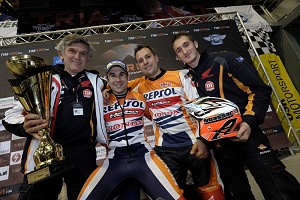 Toni Bou's trophy cabinet will need enlarging once more. The magnificent setting of the Arena Nova in Wiener Neustadt, Austria, played host to the penultimate test of the 2015 X-Trial championship, as a packed house witnessed the Spaniard extend his run of championship wins to an unprecedented nine in a row.
style="text-align: justify;">
The Repsol Honda Team came to the event intent on maintaining the kind of high-level performance that had brought top honours in Barcelona a week ago. As usual Bou's semi-final performance had raised the bar high, as the eight competitors battled it out over six technical sections.
The final got underway with a first section that proved insurmountable for all, but Bou soon made amends astride the Montesa Cota 4RT, proving to be the only rider able to make it across the second obstacle. From then on it was plain sailing for the Honda maestro who began to increase the deficit over his adversaries, before finally finishing ahead of second place Jeroni Fajardo. It was Adam Raga's third place that made Bou's overall victory in the FIM X-Trial World Championship a mathematical certainty. The indoor win tally now stands at 45.
The final stop-off for Team HRC in the FIM X-Trial World Championship will be held in the Palacio de los Deportes in Oviedo, Spain next Friday, March 20.
I'm really very pleased. I had a great race, and the way that Adam has been going lately, I didn't expect to win the title here. It was a very tricky and technical race and Jeroni was really sharp today.


I felt really comfortable in all the sections, and the crowd got really into it too, which is really good for the sport as well. It's difficult to reflect on what this title means; nine is a lot, and I never thought that I would be able to win so many. The rivals have really battled and made it difficult, which is why it means so much. The bike has run like a dream all year and the team has always been up to the job, always supportive, and I'd like to dedicate this victory to them, to my minder Joan Cordón, to my family and friends and everyone who follows me.