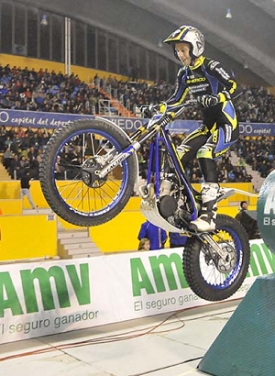 Albert Cabestany – Sherco will join his compatriot Toni Bou – Repsol Honda as the formidable Spanish duo look to secure victory at the 2015 FIM X-Trial des Nations to be hosted in Nice, France this coming Friday evening. The thirty-four-year-old experienced campaigner having earned his prestigious place in the two-rider squad alongside the current FIM X-Trial World Champion Bou, due to his runners-up placing in the 2014 series. The Spanish Federation opted to revert to the previous season's rankings for the selection process, with entries for this year's team competition having to be submitted prior to the recently ended 2015 series.

Cabestany who recorded a surprise and emphatic win at the final round of the 2015 FIM X-Trial World Championship held in Oviedo, Spain just over two weeks ago eventually finished a comfortable third in the general standings behind Bou and Adam Raga – Gas Gas respectively. Cabestany's pedigree indoors has been undisputed over an extended period with the Sherco teamster having not finished outside of the top three in the series since 2004 when he momentarily slipped to fourth in the rankings. Albert's best indoor season was back in 2002 when he captured the FIM Indoor Trial World Championship, as it was then known.

Whilst his victory in Oviedo earlier this month was his first since Marseille in 2010, over the five years in between wins the now veteran protagonist has been unbelievably consistent during an era when Bou has reigned absolutely supreme. Additionally hardly a year has gone by when Albert has not embarked on an epic season long battle with his archrival and fellow countryman Raga - a man who would have loved to have lined up beside Bou this Friday, with this being the first time since 2012 that the FIM X-Trial des Nations has been reintroduced to the calendar. Speaking ahead of Friday's event Cabestany explained. "Obviously it is good to be included in the Spanish team and to have the chance to ride inside this event alongside such a great rider as Toni (Bou). To win in Oviedo means that I am in good form, but since then it has been complicated. I have spent more days recovering from the ankle injury I sustained a few weeks back than I have spent training on the bike. Also we are now working to be ready for the outdoor season, as we already lost a lot of time in this direction."

"Anyway I believe that we will be in good condition for the FIM X-Trial des Nations on Friday. We were the winners of the same event inside the same arena the last time it was held, so we have some good memories of this place. Toni is the number one rider indoors and outdoors at the moment, so it takes the pressure away from me, so I will be able to enjoy riding at his side and doing my part knowing I have the best teammate possible."

"For sure we are the favourites, but on the night all the teams and riders will start with the same marks – zero – and from there we will have to see who can do the best. I am confident that we can get a good result and hopefully win the title again."

Albert ended by saying. "It is always a proud moment when you have the chance to represent your national federation."

The Palais Nikaia close to the seafront airport in Nice will welcome two riders from five different countries to contest the 2015 FIM X-Trial des Nations on Friday evening. This elite gathering of riders wearing their national colours will see representatives from Spain, France, Italy, Great Britain and Japan battle it out over two laps of six sections for this coveted prize that was last awarded, coincidentally at the same venue, back in 2012.