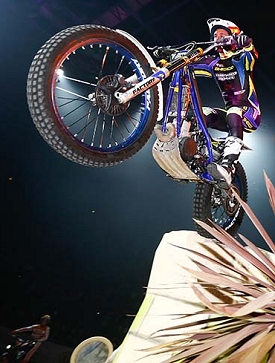 The Spanish team of Toni Bou – Repsol Honda and Albert Cabestany – Sherco remained totally un-penalised to run out the clear winners of the 2015 FIM X-Trial des Nations held in Nice, France. Whilst their victory was perhaps never in doubt the level of their performance was certainly beyond expectation as between them Bou and Cabestany cleaned all six sections in the two directions they were ridden over both laps. France's combination of Loris Gubian – Gas Gas and Alexandre Ferrer – Sherco were worthy runners-up on the night after they fought their way back into contention after a shaky opening lap. Great Britain completed the final podium as James Dabill - Vertigo and Michael Brown – Gas Gas slipped from an intermediate second spot at the halfway, to third place come the finish.

The competition got underway with each of the five teams nominating one of their two riders to contest the initial speed section, the results of which were used to determine the actual start order for lap one, with the slowest team going first and the fastest team earning the right to ride the opening six hazards last having first watched their rivals' attempts. Not surprisingly Cabestany for Spain was the quickest with a time just over twenty-three seconds, he was closely followed by Japan's Tomoyuki Owaga – Honda, Dabill representing Great Britain, French rider Ferrer and Italy's Matteo Grattarola – Gas Gas respectively, as just over two seconds separated all five contenders.
With the riding order decided, each nation then had the option of selecting which of their two riders would ride each section, which added another level of tactical intrigue to this unique inter countries competition. Again as perhaps expected Spain made light work of the opening lap as both Bou and Cabestany each rode three sections without any loss at all. Great Britain played a similar early game with Michael Brown – Gas Gas and Dabill each completing three hazards to good effect for a total of three marks. Italy were the surprise package on lap one with Grattarola and Ginaluca Tournour – Gas Gas sharing the workload and ending the initial lap on four marks and in an interim and excellent third spot.
Despite plenty of noisy home support the French duo of Loris Gubian – Gas Gas and Ferrer failed to make the most of the morale boosting advantage and ended the first half of the competition down in fourth position on a tally of eight marks. In truth France recovered well after Gubian fived the very first hazard of the evening to leave him and his compatriot with an uphill struggle on their hands.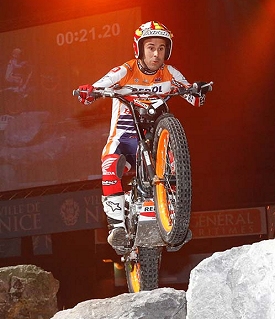 The Japanese pairing of Owaga and Takahisa Fujinami – Repsol Honda rounded out the five teams with a total of ten marks. Surprisingly it was Fujinami who dropped the baton in an otherwise good performance as he clocked up the only failure to be recorded in section four on the opening lap.

Lap two started over with a repeat of the speed race determining the riding order, on this occasion Spain were fastest followed by Japan, Great Britain, France and Italy. Spain's dominant duo put their eventual win beyond doubt as they once again cleaned all six sections on lap two, this time ridden in the reverse direction. France proved the absolute sensation of the second half as they dropped just two marks to overhaul Great Britain for the coveted runners-up placing. Dabill's five in the second hazard on lap two was to prove costly, but still allowed them to take third place overall. Italy put up a spirited performance to take fourth position ten marks clear of Japan, as the capacity crowd enjoyed an intense evening of entertainment.
With the FIM X-Trial des Nations over with the riders and teams will now switch their attentions to the start of the 2015 FIM Trial World Championship, which begins on 25/26th April at Motegi, Japan.