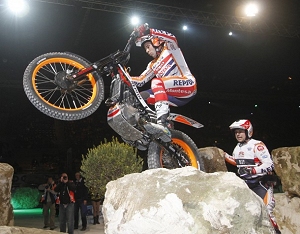 The Repsol Honda Team,the biggest winners over the last decade, are set to get the new indoor season underway in Great Britain this weekend. Toni Bou, starting his bid for a tenth world championship title and Takahisa Fujinami, returning to the competition, will both represent Repsol Honda Team in this 2016 FIM X-Trial World Championship.
It has become something of a tradition over recent years, with 2016 no exception, to see the start of the FIM X-Trial World Championship held in Sheffield, UK. The city situated in the north of England has always hosted indoor trial's top event and will once again feature the season's opening date. No one knows this better than Toni Bou who has consistently excelled there over the past decade.
The Repsol Honda Team rider has now clinched no less than nine consecutive X-Trial championships and the top gun's attempt at a tenth title will begin on 9th January. Toni Bou has cleaned up in the six most recent X-Trial editions in Sheffield and it could prove crucial to begin this season on top of the podium, especially given that the indoor championship has a highly reduced number of four dates this season. Apart from Great Britain, this year's FIM X-Trial World Championship will feature, Barcelona (Spain), Wiener Neustadt (Austria) and Marseille (France).
The other big news for X-Trial this season is the return of Repsol Honda Team's Japanese rider Takahisa Fujinami who was forced to take a year out due to a knee injury and his subsequent convalescence.
| | |
| --- | --- |
| | After a long outdoor season, we will be back in action with the X-Trial World Championship. It will be a difficult year, of that I'm sure. The rivals always make it very complicated, and more so this time due to the changes of team, which will make them more motivated than ever. Besides, the championship is very short which means there will be no room for error. The first event will be very important. |
| | I'm really looking forward to returning to the X-Trial competition. I hope to be in the right condition to compete well and my aim is to get back onto the podium. This winter I have done some indoor events in France and I felt on fantastic form, so I'm really up for competing once again in the world championship. |