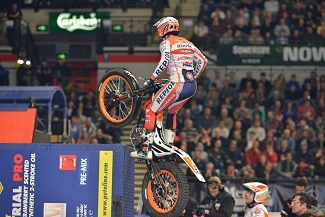 Toni Bou enters 2016 as clear favourite to lift his 10th X-Trial titleThere is no doubt that defending champion Toni Bou – Repsol Honda starts the 2016 FIM X-Trial World Championship this Saturday in Sheffield, Great Britain as the clear favourite to lift an historic and incredible tenth successive title. Bou openly admits that the indoor arenas are his preferred battlegrounds, and his exquisite technical and yet powerful riding style is beautifully suited for him to exploit his long supremacy over the artificial sections. However, that said despite clinching a ninth consecutive crown last season without any real opposition in terms of the championship itself, 2015 actually marked one of Bou's most inconsistent campaigns if you could ever use such words to describe Toni, in more recent years.
Undefeated since the second round of the 2010 series in Marseille, France going into last season Bou was beaten twice in the six round 2015 tour to at least give his nearest challengers the smallest glimmer of hope that the undisputed King of Trial both indoors and outdoors is human after all. Toni's eternal archenemy Adam Raga – TRS was the man to bring Bou's long-standing run to an end as he was deservedly triumphant at round three in Pau, France having been close on previous occasions and having re-found some of his best form. Despite having already clinched the title a round earlier Toni then had to endure further disappointment at the final encounter held at Oviedo, Spain where he was demoted to the third step of the podium as Albert Cabestany – Sherco took his first win for five years after a tense fight with Raga who ended the evening as runner-up to secure the same position in the closing general standings.
Form would suggest that Bou's biggest threat will again come from his two established Spanish compatriots as he looks to complete a perfect ten and claim his tenth FIM X-Trial World Championship. Raga appears to be more motivated than ever having switched to the new TRS team, which is headed by former FIM Trial World Champion Jordi Tarres at the end of last season. Whilst Cabestany remains in the same colours for yet another year, his determination and dedication should not be doubted as he continues to out perform his younger rivals in a discipline where young talent should really excel under the bright lights and compact format of the indoor events.
Another rider who may also benefit from the new motivation a change of team can bring is Jeroni Fajardo – Vertigo. Fajardo joins James Dabill – Vertigo in the now season old Vertigo factory squad under the guidance of the previous King of Sheffield Dougie Lampkin. This swap of machinery may represent Fajardo's last chance to really impose himself on the front runners having so far failed to deliver consistent results on the level many predict that his ability is capable of achieving.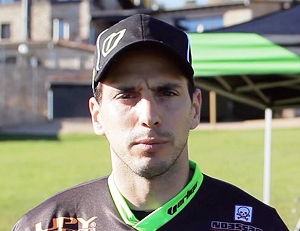 Jeroni Fajardo will make his competitive debut on the Vertigo at SheffieldAlthough Jeroni will be primarily focused on breaking into the top three, he will also have to be aware of the threat of others looking to depose him from the fourth place ranking he secured in 2015.
Fans the World over will be delighted to welcome back Takahisa Fujinami – Repsol Honda to the fixed rider line up after the highly popular Japanese protagonist was absent from the 2015 FIM X-Trial World Championship due to his long term knee injury. Fujinami's inclusion alongside France's emerging Alexandre Ferrer – Sherco and the entertaining Eddie Karlsson – Montesa, Sweden concludes the permanent competitors for this year's series. The opening round in Sheffield this coming Saturday will also include home favourite Dabill as the lone wildcard entrant as he looks to cause an upset after having failed to qualify as one of the seven fixed riders this season. All in all everything is in place for a high stakes curtain-lifting event to the 2016 FIM X-Trial World Championship.