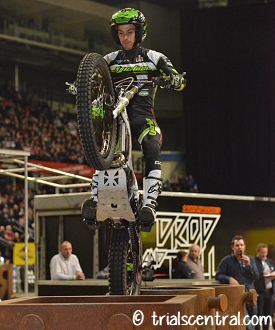 The opening round of the 2016 FIM X-Trial World Championship held in Sheffield, Great Britain proved an historic moment for the Vertigo factory team with it fielding not one but two riders in the eight-man line up. This time around it was Jeroni Fajardo who was making his Vertigo debut, repeating the same feat that his now team mate James Dabill had made just twelve months ago in the same arena. Fajardo and his factory Combat did not disappoint on his first official outing and came close to grabbing a podium placing at his inaugural attempt, and eventually ended the night in fourth spot.

Having not managed to make the fixed rider line up this season for the indoor series, Dabill's inclusion for his home round was as a wildcard entrant that meant he was part of the initial pairing who were the first to attempt the six challenging sections during qualification. With no reference to follow as his Scandinavian sparring partner Eddie Karlsson failed in all the hazards, James did his best to produce a notable performance in front of his home fans and finished the evening on a score of twenty-one marks, which unfortunately did not allow him to transfer to the final. Dabill was classified in seventh position in the results.

Riding alongside his esteemed compatriot Albert Cabestany, Fajardo and his Spanish rival really raised the bar during their respective qualifying laps. Clean rides on the opening two sections immediately confirmed both Jeroni's confidence and ability aboard his new mount. This was a pattern he was to continue as he completed the first lap for the loss of just five marks to take him in a three way tie with Cabestany and defending champion Toni Bou, both of whom he would defeat in the tie-deciding races to qualify for the final in second spot behind eventual winner Adam Raga.

Now inside the elite four in the final Fajardo traded early blows with his main rivals and was able to match them through the initial two sections, this time ridden in the reverse direction, to put himself in the mix. However, a rare mistake on the large metal oil bottles that made up the third hazard was to break Jeroni's rhythm. Despite this small error Fajardo did his best to fight his way back into a podium place, he eventually had to settle for fourth spot on what was an excellent debut for him riding the fuel injected Combat machine.

Speaking after the event Vertigo Sports Team Manager Dougie Lampkin stated. "It's a shame that Jeroni just missed out on a top three position as he has ridden so well tonight despite the additional pressure he is sure to have felt on his Vertigo debut.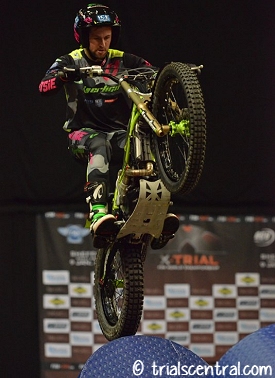 His level of riding is up there with the other three who made it through to the final, and I am sure now with some more time on the bike before the next round in Barcelona he will be a real threat."

"Equally James looked strong in places and now he has Jeroni inside the team with him I am sure it will help to push him on too. Overall again we have shown just how good the Combat is at the top level of competition and so I would like to congratulate and thank the whole team for all their work and efforts over the winter period to be ready in such a strong way for the new season."

Pleased with his debut performance Fajardo said. "It is always good to get the first event of the new season done, and especially today as it was my first official ride for Vertigo. Overall I am very happy with the way I am riding after only two months adapting to the new bike and team. I am confident that we can be even stronger in the coming rounds and will now continue to work for this. I just want to thank my team for their great work so far."

Looking back on his night Dabill explained. "It was good to have the chance to ride in front of my home fans, but it was always going to be a big task to qualify being one of the first riders out. I can take away the positive from tonight and will now continue to work hard to be ready for when the outdoor season starts."