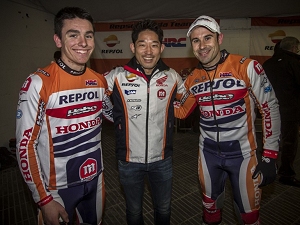 Three riders from the Repsol Honda Trial Team will line up this weekend for the second round of the FIM X-Trial Championship at Barcelona's Palau Sant Jordi: the current world champion Toni Bou, Japanese stalwart Takahisa Fujinami and rookie Jaime Busto.

Repsol Honda Team's Toni Bou will be looking to get his title hopes back on track after missing out on victory in the opening event of the indoor trial championship held in Sheffield in January. Bou's runner-up spot in the season's inaugural race leaves the Spaniard well-poised to re-establish his usual command of the world championship.
It will be something of a home-game for most of the X-Trial participants. Toni Bou in particular will feel at home in Trial Indoor's flagship event, one which has seen the Repsol rider come away victorious on nine previous occasions – eight aboard a Montesa – with a consecutive winning streak at the venue that stretches back to 2009.
Takahisa Fujinami returns to an auditorium that has always been welcoming and will be looking to reward the warm reception of fans with a corresponding result. The ex-world champion spent most of last season convalescing after a knee operation and was unable to take part in Barcelona last year. 'Fujigas' hopes to spring a surprise in his comeback and will aim at grabbing a top-four spot in the 2016 edition. Fujinami finished second in 2007 and third in 2004, 2009 and 2013.
Jaime Busto, for the second year running, will occupy the eighth slot on the list of entrants after having received an invitation from the organizers to take part. The Basque rider, the best rookie on the outdoor season, continues to adjust to the competition and has yet to find his habitual form.
| | |
| --- | --- |
| | This weekend in Barcelona we will have to turn things around after what happened in Sheffield, where one slight mistake was enough to cost us the victory and I hope that doesn't happen again in Palau Sant Jordi. Finishing second in England means that the motivation is much greater for this race on home soil and where everyone, including family, friends, sponsors and fans, will be there to support me. The sections will be different this year and let's hope that the difficulty of the obstacles which they have built live up to the high expectations. |
| | The Barcelona trial will be the "home stage" for me; all my family and friends will be there, but also because the Montesa-Honda factory is nearby so I'm sure there will be a lot of the brand's fans present. It is the most important trial for all the Spanish riders, but I feel very at home there too and I hope that the fans get behind me as well. My aim is to make it into the final, so in other words, I will have to improve on the result in Sheffield. I think that I wasn't far away from qualifying but just a slight mistake and you are out. On the other hand, the sections in Barcelona will be different this year and I think that they will suit my style much better. |
| | Last year I made my debut in Trial Indoor in Barcelona and I wasn't too pleased with it. The level of the sections was very high and I think that I felt the pressure of such an imposing venue as the Palau. I hope that I have learnt the lesson for this year and at least feel a bit more comfortable with my participation. The Barcelona indoor event is very demanding but we are especially well-prepared for this one. |