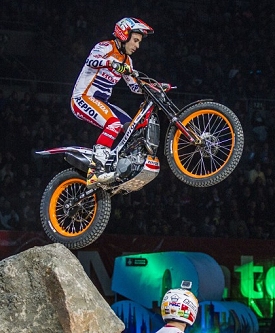 Repsol Honda Team rider Toni Bou got back on the winning trail in a thrilling Barcelona X-Trial, notching up a tenth triumph in the Catalonian capital. Fujinami missed out on the final by a single mark and Busto finished the day in eighth spot.

The final podium photo shot in Barcelona's Palau Sant Jordi was a repeat of those of the previous ten years of Trial Indoor, with Toni Bou occupying the upper step. Astride the Montesa Cota 4RT, the champion continued to assert his command at Trial World Championship's top venue. In doing so, the Spaniard storms back to the top of the X-Trial overall leader-table.
Toni Bou set out his stall early, cruising round the course and into the final to become the only rider to finish mark-free. The final itself once again produced a vibrant duel with an in-form Adam Raga, with Bou managing to distance himself from the competition in a highly demanding Barcelona event. Such was the difficulty of some of the sections that the Repsol rider was even forced to overcome a three metre fall in section five – an obstacle that proved insurmountable for the entire field.
Repsol Honda team-mates Jaime Busto and Takahisa Fujinami failed to make it through to the final. Although the young Basque rider had improved on last year's outing, his 22 marks left him out of the decisive phase, finishing the event in eighth position. Similar fortune befell Takahisa Fujinami, who narrowly missed the final with just a one mark difference over Jeroni Fajardo. The Japanese rider settled for fifth place overall but comes away from the event in more buoyant spirits than after the world championship's opening GP.
| | |
| --- | --- |
| | Clearly I'm very happy: winning in Barcelona is always very important. Besides, after the second place in Sheffield and such a short championship, it's difficult to come here and not be nervous. On the first lap I felt more comfortable than on the second one where I started really well and was able to mark the difference in section three by taking some risks. But later in section five I had a problem but I was able to overcome it. It was a laboured victory with a lot of nerves, but I'm very satisfied with the result as far as the world championship goes |
| | I wasn't able to qualify for the final by a mark. It was a pity but we are working very closely with Honda and I believe that we are well on the right track and we will be even closer for the next indoor trial. We started the year a long way off, but this time it was just one mark that kept me out of the final, so in the next GP I hope to be there in the final. |
| | I started the trial very well today, but I felt very nervous and I made a few more mistakes than normal. I think that I would have done much better if it hadn't been for those failures which occurred in easy sections where I shouldn't have picked up five marks. But we will keep working hard towards the next date. |