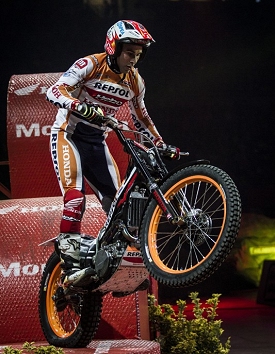 The third round of the FIM X-Trial World Championship will be held this weekend in Austria as the Arena Nova in Wiener Neustadt hosts the penultimate date of the indoor competition. Repsol Honda Team's Toni Bou currently sits at the head of a very tight overall leaderboard.
The current situation in the FIM X-Trial World Championship is very different from last year's one. Toni Bou came away from the same venue a year ago having clinched a ninth consecutive world championship. This season's event, which takes place on Saturday 19th March, will be key to how the very close championship battle unfolds. It is unlikely, however, that anyone will make off with the 2016 championship title this weekend in Wiener Neustadt, but victory should prove a giant leap towards the overall title, with just the one round remaining in two weeks time.
A win in the most recent indoor event in Barcelona saw Toni Bou equal Adam Raga in the overall standings of a drastically reduced four-event 2016 X-Trial calendar. The Repsol Honda Team rider lines up this weekend in Austria intent on a victory, which would lessen the pressure for the forthcoming GP in Marseille which closes the season.
Wiener Neustadt will see Toni Bou accompanied by Repsol Honda Team sidekick Takahisa Fujinami who has posted fifth place in the two previous championship outings. In Barcelona the Japanese ace narrowly missed out on a place in the final, something that he will look to rectify this weekend in Austria.
At 11:00 Saturday the eight participants will be able to inspect the six sections and the double-lanes that make up the competition for both the qualifying round and the final. The event kicks off at 18:30 hrs with the presentation of the riders, then it will be straight down to business with the competition itself. The final will start at 21:30 hrs local time.
| | |
| --- | --- |
| | Over the next ten days the indoor championship will be decided and I will have to perform well in both competitions to be able to win the title. It won't be easy, I'm convinced about that. Adam showed in Sheffield and Barcelona that he is really strong and I will have to improve more and not make any mistakes, if I want to win in Wiener Neustadt. |
| | I hope to be able to confirm my improvement in the indoor events in Austria. I have been training to avoid making the mistakes that I made in Sheffield. In Barcelona I was very close to getting into the final and that will be my aim for next two dates. I believe that it will be possible. |