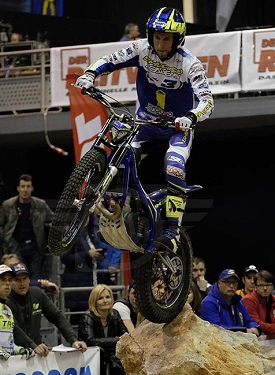 French Trial Champion Alexandre Ferrer - Sherco is looking forward to the final round of the 2016 FIM X-Trial World Championship when it takes place in Marseille, France this coming Friday. The tall, thoughtful, twenty-five year old will celebrate his next birthday just four days after his home GP. For the Sherco mounted star this is really a local event as the Ferrer family home at Perthos – Vaucluse is just one hundred and twenty kilometres inland from the World famous city of Marseille on the Cote d'Azur.
Ferrer is now a veteran with eighteen X-Trial starts under his belt, having made his debut in the series back in 2010 at Marseille. Alexandre has now competed in his home GP a total of five times, his best finish being fifth in 2015. In fact fifth is Ferrer's best X-Trial result, having achieved the position five times, Sheffield in 2013 and then Sheffield, Marseille, Pau and Oviedo in 2015.
Alexandre, despite threatening to make the breakthrough has yet to claim a top four placing, the positions which are now dominated, fought-over and guarded by the usual Spanish quartet.
Coming off a disappointing eighth and last place at the penultimate round in Wiener Neustadt, Austria, last Saturday is not good for Ferrer, but he is clear that this will not affect his preparation for the event as Marseille is so special to him as a French rider.
Said Alexandre. "For sure the X-Trial in Marseille is very important for me, all my team, my family and my friends all come to watch so it is natural that I want to do well. I must make my best ride in this event."
"I came very close to making the final last year, this time I must not make the mistakes, it is my goal to ride in the final. I like the sections in Marseille, they are very technical. I don't like the big steps so much, so this event is good for me."
"I will be the only French rider as the wild card has gone to (Jaime) Busto, but for me there is no pressure. I want to ride my very best in front of the French fans and to enjoy my riding on the night. I have had some injuries, but they are behind me now and I go into the race 100% fit and ready to do my best."