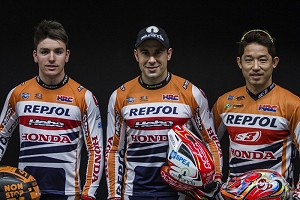 This weekend Marseille, France hosts the final round of the FIM X-Trial World Championship with Toni Bou all set for a decisive battle that could see him crowned champion for a tenth consecutive time.
Repsol Honda Team champion Toni Bou will be in action for the fourth and final event of the 2016 X-Trial calendar, looking likely to add another prize – a tenth indoor title – to an already over-filled trophy cabinet.
Bou will appear in Marseille's Sports Palais des Sport with a comfortable eight-point advantage over rivals who will be forced to take risks if they want to defeat the Spaniard. In spite of this, a second place finish will be enough to seal the honours thanks to last week's results. The Montesa Cota 4RT rider has taken victory in five of the previous seven editions in Marseille.
This will also be the final opportunity for Toni Bou's Repsol team-mate, Takahisa Fujinami, Japan, to complete the season's mission and qualify for the final. In both Barcelona and Wiener Neustadt he was just one point away from doing so.
Repsol Honda Team's third rider, Jaime Busto, will be the organisation's wildcard for the final X-Trial outing. The Basque youngster also took part in the Barcelona edition of X-Trial and will be hoping to improve on the result.
The race gets underway at 20:30 hrs with the final set to commence at 21:30. The event will consist of a race followed by the course's five sections.
| | |
| --- | --- |
| | The Austrian results were very positive ones which allow me to go into the final one without so much pressure. That said, I'm taking nothing for granted and I'm sure that all the rivals will make life very difficult and push really hard. I will have to be very focused and not make any mistakes. |
| | My goal of getting into the final is still the same. In the two most recent trials I came very close to it and I think that I can achieve it this time round. I will concentrate hard on not making any mistakes and take advantage of all the work that I have put into the training sessions. |
| | I came away from Barcelona with a bitter taste as I believed that I would do better. I didn't really hit it off and I think that I could have done much better. I hope that I am able to ride here in Marseille the way that I know how to and I hope to be able to take advantage of the chance that the organisation has given me. |