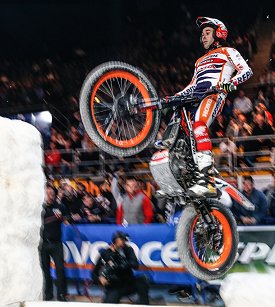 Toni Bou has clinched a third triumph of the season and sealed his tenth X-Trial World Championship title with a masterly exhibition of riding prowess in Marseille.
The Repsol Honda Team rider has added yet another accolade to an already lengthy roll of honour with an indisputable win at the Marseille X-Trial. Toni Bou rallied and pull himself back after an early setback in section two of the qualifying round which saw him pick up a five-mark penalty. From then on the Spaniard produced a flawless performance, making it through the five sections of the final without picking up as much as a single mark. An irrefutable victory over closest rivals Cabestany and Raga who were to share the podium with Bou in the Palais des Sport.
Toni Bou's overwhelming win now takes the Catalan's title tally to ten. The Repsol Honda Team has clinched the championship consecutively every year since 2007 and has broken just about every possible record in the discipline.
Takahisa Fujinami also had his own particular success story on the night. The Japanese Repsol Honda stalwart arrived in Marseille intent on a place in the final and accomplished that mission with a fourth spot in qualifying and an eventual fourth place overall in the final.
Jaime Busto was unable to complete his X-Trial World Championship objective of improving on previous results and had to settle for eighth place overall.
Next port of call for the Repsol Honda Team will be in two weeks time with the start of the FIM Trial Outdoor World Championship season in Olvan and Cal Rosal (Barcelona) on 9th and 10th April. The team's triumvirate remains the same with Toni Bou, the current champion, to sport the number one, Takahisa Fujinami, the number five and Jaime Busto, six.
| | |
| --- | --- |
| | Today went super-well. I'm thrilled because we suffered such a lot – it was a really complicated trial. In the final, not only did Adam pressure me, but also Albert Cabestany was there throughout to complicate the evening. I should remind you that Adam Raga has been really competitive all season, really piling the pressure on. When you come up against a rival of this quality, the titles have much more merit. I'm really pleased. Now it's time to carry on living this dream. |
| | I'm really, really happy! Not just because Toni has won yet another title in his list of honours, but also because I managed to complete my personal objective of getting into the final. I knew that it was possible to get into the final of an indoor event and this fourth place will really encourage me to believe that I can achieve all the results that I set out for myself. |
| | It has not been a very good trial for me. I thought I would be able to do it well and be able to forget about the previous indoor results, but I got very nervous and I didn't get it right in any of the sections. I performed pretty badly. I hope to be able to push much more now that the outdoor season is starting up. |