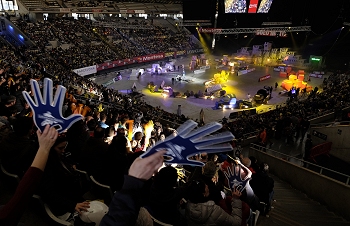 The opening round of the 2017 FIM X-Trial World Championship this coming Sunday will fittingly take place in Barcelona, Spain. The iconic event celebrates its 40th anniversary this year having long been a part of the World series. Originally staged in the city's Palais des Sports before moving to its current home in the Palau Sant Jordi in 1992, the first event in 1978 saw a home win for Jaime Subira. American Bernie Schreiber won the next two editions before Toni Gorgot put the home nation back on top in 1981.


Belgium's Eddy Lejeune then took a hat-trick, his run eventually stopped by Andreu Codina which began an amazing sequence of Spanish victories with only Italy's Diego Bosis - 1987 and British legend Dougie Lampkin - 1998, 2000 and 2001- preventing a whitewash by home riders.


The great Jordi Tarres first won the event in 1986 and then from 1988 until 1993 he was unbeatable in Barcelona, amassing six consecutive wins. The seven-time FIM Trial World Champion has fond memories of the trial. "It has always been the benchmark event," said Jordi. "In my day it was said that whoever won in Barcelona would be the next World Champion. The proximity of the public in the old palace was such that you could even hear their comments when you were on the bike. The Palau Sant Jordi brought more public and bigger areas, but the competition lost a bit of that special intensity."


Despite the best efforts of Marc Colomer and Adam Raga, who have each taken five wins in Barcelona, Jordi held the record of seven victories until Toni Bou won for the eighth time in 2014.


Bou has since gone on to extend his total to ten and this Sunday coming the reigning FIM Trial World Champion and FIM X-Trial World Champion will attempt to make that eleven with a ninth consecutive victory.


If Toni does it will be an ideal start to his campaign before the 2017 FIM X-Trial World Championship moves on to Wiener Neustadt in Austria on 11th March, then signs off with two rounds in France in Marseille on 25th March and Nice on 31st March.