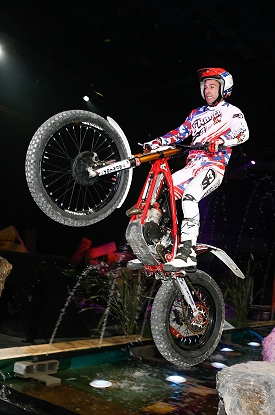 Image: FIM /Good ShootFrench favourite Loris Gubian – Beta is the wild card rider taking on the permanent seven stars of the 2017 FIM X-Trial World Championship when round two takes place in Wiener Neustadt, Austria this coming Saturday. Twenty-eight years of age from the city of Lyon, Loris will be making his return to the championship after being absent in 2016.
A very experienced indoor rider having made his championship debut in 2007, Loris' highest overall finish was sixth in 2012, the same year he recorded his best event finishes with fifth places in Geneva, Switzerland and Majorca, Spain. He also recorded another fifth-placed finish in Oviedo, Spain in 2014.
In 2012 and 2015 Gubian helped France to podium finishes in the FIM X-Trial des Nations. Loris finished the 2015 FIM X-Trial World Championship in eighth overall after recording a pair of sixth-placed finishes when he competed in his home rounds in Marseille and Pau as a wild card rider.
"I am very pleased to be able to return to the FIM X-Trial World Championship, especially in Austria as it's an event I have wanted to ride," said Loris. "I want to thank the local organiser for this great opportunity."
"Last season was not one of my best years. I arrived at the start of 2016 after a very difficult winter due to many injuries which meant I had very little time training on the bike but I am happy to say that already 2017 is different and I am much more prepared both physically and on the bike."
A five-time French outdoor champion, Loris finished fourteenth in the 2016 FIM Trial World Championship despite missing the final two rounds. His best result was a seventh on the second day of his home round.
"My goal this weekend is to enjoy the event but still do my best," he added. "As we already know many of the riders are able to reach the final so it will be difficult to do this but in X-Trial we also know that anything is possible so I will be doing my best for sure to create a surprise."