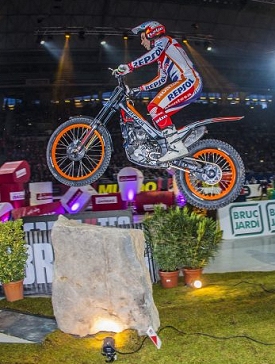 After kicking off the 2017 X-Trial campaign in the best possible way with a magnificent win in Barcelona, Repsol Honda Team are once again back in action as the indoor trial season arrives in Wiener Neustadt, Austria.
FIM X-Trial's current championship title holder Toni Bou and his Repsol Honda Team companion Takahisa Fujinami are all set to tackle the second round of the trial calendar as the championship moves on to Austria, this Saturday 11th March, in Wiener Neustadt's Arena Nova.
Toni Bou came away from the opening X-Trial event earlier this year in Barcelona with a victory that saw the incumbent champion lead from start to finish. The Catalan will be looking for more of the same in 2017 and currently sports a three-point advantage over the nearest second-place rival in the overall world championship standings.
Bou's long-standing Repsol Honda buddy Takahisa Fujinami lines up alongside him for the event. The Japanese rider will be looking to set the record straight after the unexpectedly disappointing result picked up in the Catalan opener. The Austrian course should prove to be much better-suited to the indoor style than the previous outing had been.
Jaime Busto, fifth in the overall standings, will not take part in the event, having done so as the organization's wildcard in the Barcelona trial.
The eight participants will be able to check out the sections that they will be faced with from 11:00 on the Saturday of the trial. Qualifying begins at 18:50 with the final between the top four scheduled to commence at 21:30. In both phases, riders will pit their skills against six hazards before the day's winner is eventually decided.
| | |
| --- | --- |
| | The first objective is to make it through to the final to be in with a chance of victory and to be able to pick up 20 more points. We are arriving highly-motivated for a win and we have prepared as well as we possibly could. It is a short championship and this means that if you aspire for the title, you can't make any mistakes. In Austria we will face a trial with some complicated sections – one of the trials that I like best in the championship. I think that we are here on top form at a moment in the championship with various back-to-back trials. |
| | After the Barcelona trial I have been able to get back to full strength and I'm physically perfect to tackle the trial. I hope to come away from Wiener Neustadt with a better result than Barcelona, which wasn't what I had hoped for. A place in the final and a step on the podium are my ideal objectives for this one. I'm really up for this as there are good chances for everyone and the sections are well-suited to my riding style. There is a good possibility of getting a result. |