T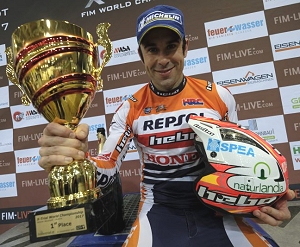 he world champion remains unstoppable. Repsol Honda Team rider Toni Bou has once again claimed victory in the X-Trial World Championship held earlier in Austria. The triumph tally in the indoor speciality now stands at an impressive fifty.
Wiener Neustadt's Arena Nova bore witness to a rampant Toni Bou who put on a fine display of the extreme technical qualities necessary to be number one in a discipline such as X-Trial. After commanding the qualifying round and scoring the least penalty marks of the eight participants, Bou went on to dominate the final, marking the difference over adversaries right from the first section.
Bou was well aware that the final would be far more complicated, requiring maximum attention from the very first moment. While his opponents were unable to scale the first hazard, the Montesa Cota 4RT rider seized the chance and made it through with a clean score-sheet. The champion narrowly missed out on the opportunity to really clinch the event in section two with a minor error complicated proceedings. Nevertheless, the Repsol Honda Team sealed his spot on the podium in the penultimate section, where once again he was the sole participant to clear the obstacles point-free. The ten point difference over the rest of the field and the twenty points for finishing in the trial's top spot once again consolidate Bou's leadership in the overall standings.
This was Toni Bou's third win in Wiener Neustadt, the second so far this season and the fiftieth in international world championship events since his win count began back in 2006 in Sheffield, United Kingdom.
Takahisa Fujinami was unable to achieve his aim of qualifying for the final in the second round of X-Trial, although he came very close to pulling it off, posting sixth overall on the day – a similar result to the first round in Barcelona. The Japanese Repsol Honda Team missed the cut for the final by five points.
| | |
| --- | --- |
| | It all went very well. We knew that we couldn't make any mistakes and we were very focused throughout the evening. I think that I could have done it even better as I made a couple of errors in the final: I could have really nailed it in section two, but on the other hand I got a three in a technical complicated part where I could have really wrapped it up. I'm very happy with the victory and we are moving ever closer to the championship objective. Next weekend we begin the Spanish Championship and after we can expect two finals. These will be two races where we can't relax but I'm very happy with the way that the work is developing. |
| | If we look at the classification we can see that the result is the same as in Barcelona, but I felt a lot more confident in myself with this trial and I did some things better, so I'm very satisfied with that. The sections were difficult and technical and if I had made it through just one more section I would have got into the final. I didn't want six place or even fifth, I wanted more and I wasn't far from achieving that. That's why I'm not disappointed. |