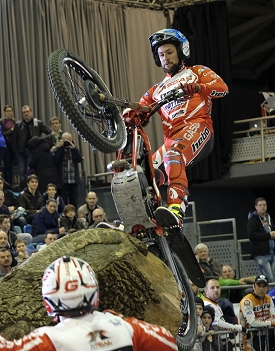 Image: FIM/Good ShootJames Dabill ended up only three points from riding in his first final of the year in Wiener Neustadt, the second event of the World X-Trial held this weekend in Austria. The factory Gas Gas rider confirmed his good adaptation to his new TXT 300 GP, although a mistake in the stones zone in the classification round prevented the British rider from competing in what would have been his first final in the 2017 World Championship. After finishing seventh in the first event of the World Championship held in Barcelona, Dabill's riding has shown continuous improvement.
Dabill: "We have improved a lot with respect to the last event in Barcelona, but the last zone for classification got a bit tricky and we were unable to get our ticket to the final for the sake of just three points. The bike was really great and I'm very happy with it and so let's hope we keep getting better and better and get there in the end in the two last events of the World Championship still to come in France"
His Gas Gas team mate Franzi Kadlec, finished seventhth. This young German rider is competing in his first full season this year in the World X-Trial Championship. After Austria this competition will be entering its final leg.