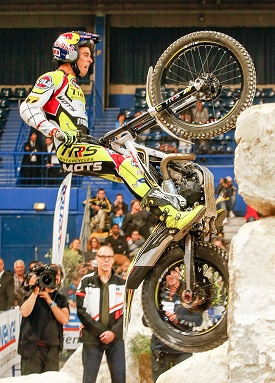 The Palais des Sports in Marseille hosted the third and penultimate event of the intense 2017 X-Trial World Championship this weekend. Adam Raga's second position allows the TRS factory rider to consolidate second place in the championship with just one race remaining.

The circuit was composed of five zones for each of the rounds. In the qualifying it was essential to maintain concentration and not fail in any section, especially in the first and the fourth. Raga turned in a very good first lap with only two points, ahead of rival Toni Bou, which allowed him to qualify in first position for the final.

The good feelings with his TRS One Raga Racing remained in the five zones of the last round which were more technical and demanding than the qualification stages. Raga made an error in section two that would ultimately spoil his chances of victory with the TRS rider finishing the race with nine points on his card, just one more than winner, Bou.

The final round of this championship, where Raga maintains the second position with a lead of twelve points, will take place next friday 31 of March.