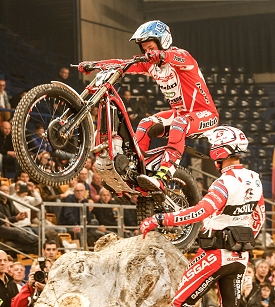 James Dabill was left out of the final of the Marseille X-Trial, the third and penultimate event in the 2017 X-Trial World Championship held at the Palais des Sports in the French city on the Mediterranean coast. After finishing just a hair's breadth away from the final in Weimar Neustatd, the previous round of the World Championship held two weeks ago in Austria, the Gas Gas rider was unable to elbow his way into the top four in France so he could get into the final of the World X-Trial Championship.
In Marseille, just the day after the British rider got such an encouraging victory in the Chalon indoor Trial, Dabill was unable to repeat the great performance that carried him to triumph in this international event. The Gas Gas rider finished with a total of 18 points in a classification round consisting of only six sections that made it very difficult for these world class riders to make up points lost through any mistakes.
Dabill had to make do with a seventh position, just one ahead of his teammate in Gas Gas, Franzi Kadlec, in the first season for this young German rider in the X-Trial World Championship. Both are occupying seventh and eighth positions in the classification of the World Championship. They are now waiting for the fourth and last event, to be held on Friday 31st March in Nice.