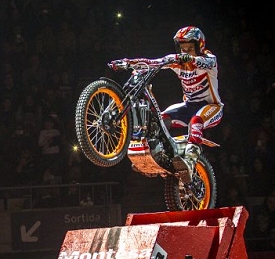 The Palais Nikkaïa in Nice, France, will host the closing round of the FIM X-Trial World Championship this Friday, with Repsol Honda Team's Toni Bou poised to boost his already legendary status with an eleventh indoor title.
The final day of March looks set to be chronicled in the sport's history books with yet another entry for Toni Bou in an already lengthy list of honours. The Repsol Honda Team ace will dispute the fourth and final round of the FIM X-Trial and looks likely to seize an eleventh consecutive indoor title.
The last X-Trial outing this season will be battled out in Nice, France, where trial's elite get to lock horns for the final time to decide the outcome of the 2017 campaign. Toni Bou and Takahisa Fujinami line up for Repsol Honda Team in what is expected to be a final as closely fought as the previous three events in Barcelona, Wiener Neustadt and Marseille, where a triumphant Toni Bou ruled the roost in each round.
To clinch the title Toni Bou will need five points – something expected to happen around ten o'clock in the evening. Making the cut for the final round will mathematically seal the championship title for the Repsol Honda Team rider.
Bou will have little time to prepare the event but can rely on the stamina acquired during a rigorous fitness programme started at the end of last season. The rider will be keen to pay close attention to the mechanical aspects of the Montesa Cota 4RT to maintain his decade-long domination in the discipline.
The world title remains the clear objective of Toni Bou who will be eager to round off the championship with a victory on the day too. Takahisa Fujinami's mission will be a place on the rostrum that has remained elusive so far this season. Sharing the podium alongside his team-mate would be the perfect way to wrap up the indoor season.
| | |
| --- | --- |
| | We are now facing the final X-Trial of the season and are one step away from the season's objective. But our way of approaching this final date is the same as it has been up until now: hard work and concentration. We will have to do well in qualifying to be assured of the title. We have said all along that it is a very short championship and we need to be careful not to make any mistakes as the rivals are always right there. And certainly, not making any mistakes is what has given us such a chance to win the title and ride with a little bit more tranquillity in the final race in Nice. The concentration will continue to be fundamental to not throw away all the hard work that we have done up until now. |
| | I'm not at all disheartened by my X-Trial season until now. I think that I have always fought as hard as I could to get the best result and so far I haven't been able to get through to the final, but I continue to think that I can make it onto the podium and doing so in the final trial will be good motivation. |