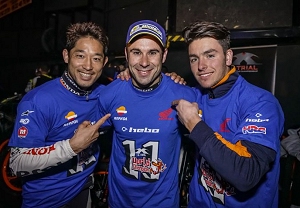 The Repsol Honda Trial Team rider, Toni Bou's extraordinary honours list was lengthened further in Nice, France where he became the 2017 FIM X-Trial World Champion. This is the eleventh time the Spanish rider has been garlanded with the honour, taking the total of world championship titles in indoor and outdoor to 21.
The Repsol Honda Team ace arrived at the Palais Nikkaïa in Nice firm favourite to win both the event and the overall title as he had done at the three previous outings in Barcelona, Wiener Neustadt and Marseille. Tonight Bou was proclaimed 'King of Nice' too after rounding off a perfect season in the indoor discipline.
Toni Bou put on a dazzling display of high-level riding prowess in the glamorous French city to claim victory on the day with no penalty marks. At the end of qualifying, the Montesa Cota 4RT rider had already mathematically sealed the title with the points necessary to take him through to the final.
In the final itself, Bou was clearly enjoying himself. With the win, the champion celebrated a full-house of wins in 2017 that takes his tally of wins in this competition since February 2016 to seven.
Toni Bou's eleven X-Trial/Indoor titles plus the ten in the outdoor discipline add up to a total of twenty-one consecutive titles, a unique achievement, not only for motorcycling, but unmatched in virtually any other sport.
His Repsol Honda Team companion Takahisa Fujinami was unable to reach his objective of qualifying for the final and accompanying team-mate Toni Bou on the podium. An error in section two sealed Fujigas' fate and the Japanese veteran missed out on the final cut by two points. Jaime Busto, the third member of the Repsol Honda Team, in spite of not participating, was present alongside team-mate Bou as the fellow Spaniard collected the eleventh X-Trial title.
| | |
| --- | --- |
| | I'm really happy, this is a special title. After winning the first three races we knew that we had to get through to the final to be able to celebrate the title. But we also knew that the race was going to be easy, so we had to work very hard in the qualifying as we knew we could have a tough competition. We ended up winning the event and finishing with no marks, which was a good job as Adam always puts the pressure on. We have won all the races – it's been two years since we were able to do that – it's an incredible sensation. I would also like to thank the team which has worked so hard. Winning the title is a way of giving them back a little of everything that they have done to help achieve it. |
| | It was a pity about section two as I could have made it through to the final. I am much more at ease with the bike now and I'm happy with the way I'm riding. I'm fifth in the world championship and I think that the team has done a perfect job. I wish to congratulate Toni on his 11th title and also all the team members and my family. |