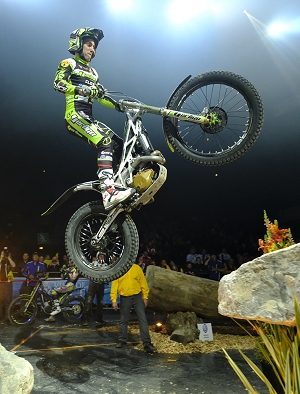 Yesterday saw Nice, France play host to the final round of the 2017 FIM X-Trial World Championship, which turned to be the best for Vertigo and Jeroni Fajardo, who turned in his premiere performance of the season to take third place on the podium and also third in the overall standings.

Fajardo was set to compete once again against Albert Cabestany in the qualification, also his rival in the fight for the podium of the championship. With two disappointing rounds behind him, Nice was the venue to recover from those performances, with Jeroni finding the confidence to bounce back and fight for the podium. An outstanding display in qualification saw Fajardo drop 6 marks, just one behind the leaders after dropping one mark in section 4 and a five in the last one, where all the other riders also struggled.


Going into the final, Fajadro knew that in order to claim third place in the Championship he had to get onto the podium in Nice. After seeing Albert Cabestany dropping to seventh place, Jeroni stayed focused, knowing exactly what he had to do. That focus and terminations saw him turn in a great ride at the helm of his Ice Hell to end the round with thirteen points after two consecutive fives in sections 4 and 5 plus one mark in number 2 and two more in the final section.
If the nerves weren't already on the edge, former Vertigo rider, James Dabill added more tension, ending the final on the same score as Fajardo, meaning the two had to compete in a dramatic tie-break for the remaining spot on the podium. A powerful ride from Fajardo saw him prevail and achieve his second podium finish of the X-Trial season, but more importantly collect the first X-Trial Championship podium finish for the Vertigo team. It was a great end to a tough series that finally rewarded Jeroni and all the Vertigo team for all their hard work through the series and also during the pre-season months.