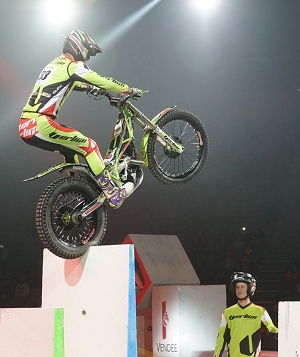 With cold weather and Winter already with us, the new season of the X-Trial World Championship has once again arrived, albeit somewhat earlier than usual and featuring a new competition and regulation system. The new Vertigo team faced its first official outing at the opening round in Vendee, France as both Jorge Casales and Arnau Farré had the opportunity to compete in this season opener inside the "event riders" group, from where several riders will be alternating their appearances through the season.

The two were competing for the first time in an indoor event with Vertigo. Previously, Jorge Casales had debuted his new Combat Vertical at the final round of the Spanish Championship whilst Arnau Farré had scarcely two weeks of training before attending Vendée to make his debut in the 2018 X-Trial World Championship.

It was Farré who had to make the first run through the 6 French sections, but in the same heat was Casales, who was set to be the 3rd. After a solid beginning, Farré had dropped just 4 marks coming to section 4, where he dropped a 5 after a small mistake, something that also happened in section 5. Finally, he was able to clean the last section and end round 1 with 14 marks.

Casales also had a promising start, arriving at section 4 with only 2 marks accumulated. This was a hard section for all the riders with only two able to clean it. Casales managed to get through losing just 1 mark, but then added 3 more in section number 5. He ended round one suffering a maximum in section 6, which turned to be crucial in terms of entering into the 2nd round, as he ended two marks behind 6th place with a total of 11.

There were positive conclusions after this X-Trial season opener taking into account all the changes the team has faced going into the 2018 season. Both riders showed great skills and the capacity to fight for the top places in classification, even with the fact that they had little time for training at the helm of their new bikes coming to Vendée. Both riders will keep working hard in order to achieve stronger results in the remaining rounds.