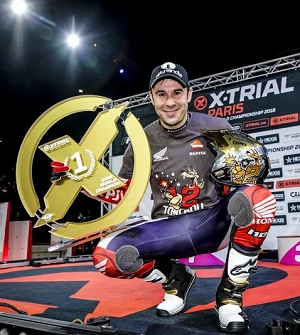 Toni Bou posted fifth in Paris as he claimed the overall 2018 X-Trial World Championship victory. The Repsol Honda Team rider took the 12th indoor title triumph when one of the dates, whose points counted towards the championship, was cancelled shortly before the start of the sixth round of the season.
Despite not being anywhere near 100% after a serious back injury, Toni nevertheless arrived in Paris as a clear favourite after having triumphed in all the previous events this season: Vendée, Montpellier, Toulouse, Strasburg and Barcelona.
The current champion had to settle for the fifth position after completing two laps of the six-section course in the AccorHotels Arena in Paris. In the first qualifying phase of his 81st indoor trial, the Montesa Cota 4RT rider performed a near perfect lap, picking up a mere three penalty points. In the semi-final phase, in which the best from each group of three makes the cut, Bou had difficulty getting going and was clearly being hampered by the injury, being unable to perform as he had done in the first phase. With a final tally of 16 penalty points, Toni Bou finished in a notable fifth position in the final standings, after 27 days out of action due to the injured vertebrae.
Takahisa Fujinami disputed race number 135 and overtakes English rider Dougie Lampkin for the number of participations in the Indoor World Championship. Fujigas grabbed his best result of the season. The Japanese Repsol Honda Team rider finished in third position, accumulating 12 points in the semi-final.
Shortly before the start of the Paris X-Trial, the FIM announced that only one trial would remain before the close of the 2018 FIM World Championship. The final event is scheduled for March 29 in Budapest.
| | |
| --- | --- |
| | I am very happy today because this last month has been very complicated for us. We didn't know how the calendar would be and until the last moment we didn't know if we could win the championship before competing here, in Paris. In the first round I was able to ride quite well and make the best performance. The break between the first and second round I wanted to control the pain but when I started to ride I saw that it was not possible to be competitive and I wanted to keep it, not hurting myself, which is important. For me, to win the championship on the bike is very important, and we have done it after this special season. |
| | Today I felt very comfortable and I took it section by section without thinking about the final result. I couldn't make it into the final, but for me to make the podium is a very good result. Also, doing it the day Toni wins his 12th title gives me great pride. I am very pleased and very proud of the Repsol Honda Team. |