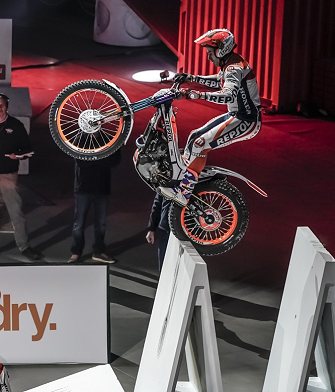 The first ever X-Trial Rennes, witnessed by over 3,500 spectators that packed in to the Glaz Arena, saw Toni Bou (Repsol Honda) continue his reign, extending a ten-point World Championship lead into the mid-winter break. Following his La Réunion victory over main rival Adam Raga (TRRS) a week ago, this was an even more dominant performance in a Final that demanded the absolute maximum of both competitors.
Bou immediately seized the upper hand by completing Section One with a mere two-mark score, following on from Raga who had dropped five with the first of a troubling run of consecutive fiascos. Even Bou found Section Two impossible, but it wasn't long before he was back on the march: gaining seven marks on Raga over Sections Three and Four to all-but confirm his victory. Finishing with a flourish, Bou recorded the only clean of the Final in the closing section, officially opening the party in Rennes.
Jeroni Fajardo took an important third position that ensures his participation in X-Trial Budapest when the Championship gets back underway in January. The veteran enjoyed a successful first outing on the Sherco, battling through a hard-fought Heat One against Jaime Busto and then overcoming his Vertigo teammate Miquel Gelabert in a Consolation Final that went down to tie-break.
Benoit Bincaz (Beta) and Jaime Busto (Vertigo) were the two big names eliminated in Round Two. Home hero Bincaz rallied late on the lap but his deficit from five-mark scores in Sections Two and Three proved insurmountable. Meanwhile Jaime Busto was eliminated after a critical five-mark score in Section Five.
In a close-fought first Round, debutant Toby Martyn (Beta) suffered a baptism of fire after a mechanical problem forced him onto his spare bike. Meanwhile Gabriel Marcelli (Montesa) failed to recapture his promise from the preliminary phase in La Réunion as he bowed out early in a competitive field at X-Trial Rennes, albeit by just two marks.
Toni Bou (1st): " I am very happy with this victory in an event that gradually met a higher and higher level with each passing Round. In Round One I never really felt comfortable, but after switching bikes for Round Two I felt much better, even though it was much harder, and I rode much more effectively and precisely during a very demanding Final."
Adam Raga (2nd): " I was happy with my riding in the second round but the level of the sections in the final was very high. Considering how tough they were in Round Two, to do them in both directions was almost impossible, and I couldn't get through any of them. I am happy because everything gets tougher and I'm another year older, but maintaining the level I showed in the second Round is enough for me to be satisfied."
Jeroni Fajardo (3rd): " I had to tackle a really tough Heat in the second Round, meeting Adam and Jaime, and I didn't feel like I had a particularly strong lap with three fiascos. That said, my two cleans were enough to make it to the Consolation Final against Miquel. And that was the aim, to have a strong X-Trial and see what I could make of it."
The X-Trial World Championship returns in January 2020 with X-Trial Budapest.