Two podium places at his home Grand Prix have put Adam Raga – Gas Gas firmly back amongst the front runners as the 2012 FIM Trial World Championship heads to Andorra for round five this coming weekend. Raga who had been far from his best during the recent trips to Australia and Japan produced two solid podium performances at last weekend's Spanish event, to move within touching distance of Jeroni Fajardo – Beta who currently holds second spot in the general standings.
Thirty year old Raga, who has been runner-up in the last five consecutive FIM Trial World Championships, now looks back on track to reclaim his position in the top-two and he is confident that he is moving forward in the right direction. Raga was relieved to finish third in Peñarroya- Pueblonuevo last Saturday, and he was delighted when he went one better by coming home second on Sunday. This series has certainly been a rollercoaster for Raga. He started on a high with a victory over reigning champion Toni Bou - Repsol Montesa on the opening day of the championship in France, only to drop to fifth place just twenty-four hours later. Then, after securing second place on the opening day of the Australian Grand Prix, Raga fell to fourth place on day two. Things got worse the following week in Japan, when Raga was sixth on day one and fifth on the second day of competition. This meant that by the time Raga arrived in Spain to compete in his home Grand Prix he had fallen to fourth position in the current World rankings.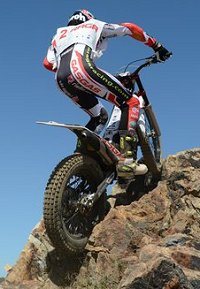 So what went wrong and why did it take Raga so long to recover? "When you are not getting good results you start to feel that nothing is working and like everything is going against you. And when you feel like that, it is difficult to ride well. In Australia and Japan I did not feel confident, and this affected my results," Raga answered.
The one-week pause between the Japanese and Spanish round came at the perfect time for Raga. "It gave me time to think about things and to work with the bike, see the problems we had and put everything right. My results in Spain have given my confidence a boost, I am back to my normal self and I am focusing on the positives. I started this championship with a victory and I will keep fighting for more victories."
Raga is ready to do battle in Andorra this weekend, but with some of the sections located nearly two thousand metres above sea level, he knows he will have to work even harder to overtake Cabestany and Fajardo. Adam concluded."I am looking forward to going to Andorra this weekend. However, I expect everyone will suffer due to the heat and high altitudes. The engine will have more compression, which means it will get hot quickly and will not work as well, and so it will be very important to find the right settings on the bike. It will also be a very physically demanding round as there is less oxygen which makes it harder to breathe."