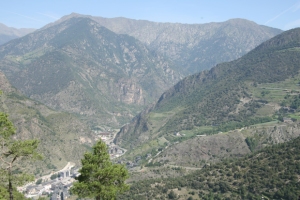 The 2012 FIM Trial World Championship continues at pace with the riders already en route to the fifth stop of the tour. Thhis weekend will see the series visit its highest venue of the season at Sant Julia de Loria in Andorra where another two days of action faces the fifty-two competitors who will not only battle against the steep and mountainous terrain that defines the small southern European principality, but also the altitude that will test both man and machine.
Regular followers of the series will not be surprised to find Toni Bou - Repsol Montesa out on his own at the head of the championship table. His forty-one point margin over his closest challenger tells the tale of the season to date. Three Spanish compatriots sit behind Bou in the title race with Jeroni Fajardo - Beta currently just two points ahead of both Adam Raga - Gas Gas and Albert Cabestany – Sherco, all of whom have been far from consistent to date.

Takahisa Fujinami - Repsol Montesa remains fifth in the general standings after two tough days in Spain last weekend where he sustained a nasty finger injury. He will have to continue to fight hard for his placing with James Dabill - Beta and Jack Challoner - Beta, both being on a rich run of form. Dabill was sixth and fifth last time out to equal his season's best result, whilst Challoner achieved his best ever finish at this level with an impressive sixth spot last Sunday.

In what will almost be his second home round in as many weeks, Daniel Oliveras - Ossa will also look to maintain his consistency after he recorded two eighth positions before he headed to Andorra. One rider who will sadly not make the trip to Sant Julia de Loria, is France's Loris Gubian – Gas Gas who will sit out this round due to the facial injuries he sustained at the last GP. However France will be well represented in the Junior class by Alexandre Ferrer - Sherco, who like Bou has only been beaten once so far this season. Ferrer currently enjoys a thirty-six point lead over Spain's Francesc Moret - Montesa who was twice a runner-up to the championship leader at his home round. Pol Tarres - JTG is currently third in the Junior standings and will be looking for a much improved showing in Andorra, after two disappointing sixth places last time out.

The French presence can also be felt in the Youth category with Steven Coquelin - Gas Gas holding a healthy seventeen point lead over Britain's Bradley Cox - Beta at this stage of the campaign. Coquelin is yet to finish off the podium, whilst Norway's Sverre Lundevold - Beta is the only other rider in this class to have tasted the winners' champagne. Lundevold's two victories, one in France and one in Japan, during his maiden season have helped him move into a clear third place in the general standings with three rounds and five counting days still to be contested.