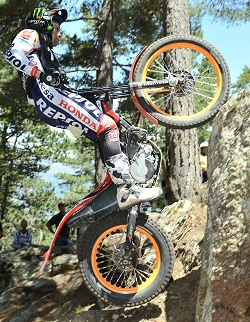 The unstoppable Toni Bou – Repsol Montesa delivered an incredible closing lap, despite riding with a badly torn muscle in his left thigh, to clinch his eighth win in a row on the first day of the Grand Prix in Sant Julia De Loria, Andorra. Bou trailed Jeroni Fajardo – Beta at the halfway stage, but rode his way back into the lead to take the victory by three marks come the finish. With Fajardo in the runners up spot, Bou has now increased his advantage at the top of the general standings to a daunting forty four points. Takahisa Fujinami - Repsol Montesa produced two consistent laps to claim the final podium place on this occasion.

Adam Raga - Gas Gas once again failed to make it onto the rostrum as his up and down season continued in conditions that should have well suited the thirty year old. Despite an improved second lap performance Raga was still unable to close down Fujinami and had to settle for fourth position, three marks back from the Japanese rider. Albert Cabestany - Sherco is another man struggling to find his rhythm this year and can count himself fortunate to have clung onto to fifth spot, as he demoted James Dabill – Beta to sixth place by a single mark after two hot and dusty laps.

Dabill was the first of three British riders to pack the middle order, with Michael Brown - Gas Gas enjoying his equal best result of his 2012 campaign in seventh place and the ever improving Jack Challoner – Beta taking eighth position to follow up his career best finish last weekend in Spain.
Italy's Matteo Grattarola – Gas Gas and Pere Borrellas – Gas Gas from just over the border in Spain, completed the World Pro top ten on the first day in Andorra.

In similar fashion to Bou, Alexandre Ferrer – Sherco maintained his march at the top of the Junior class. His latest win extending his run to four victories in a row. Ferrer's domination of this category is clear to see with the French rider having now opened up an almost uncatchable fifty point lead at the head of the championship. Jorge Casales – Gas Gas followed up his pair of third places at the last GP, with the runners up spot this time out. He now hold sixth place in the series. Benoit Dagnicourt – Beta, Pol Tarres – JTG and Jack Sheppard – Beta placed third, fourth and fifth respectively as just one mark separated these three young riders after a tough day in the sun with Sheppard losing his tie decider with Tarres by a single clean.

Norway's Sverre Lundevold – Beta took his third win in the Youth division, as he finished five marks clear of championship leader Steven Coquelin – Gas Gas. Britain's Bradley Cox – Beta lost out to Coquelin on an extended tie break, after only overall time could be used to split these two title challengers. Lundevold, thanks to his latest victory, has now closed to within five points of Cox in the points table, with both riders knowing that they have got work to do if they are to stop Coquelin becoming champion. All three main classes will compete over a similar course tomorrow to bring the Andorran GP to a close.
World Championship Final Results

1. Toni Bou - 11
2. Jeroni Fajardo - 14
3. Takahisa Fujinami - 20
4. Adam Raga - 23
5. Albert Cabestany - 32
6. James Dabill - 33
7. Michael Brown - 41
8. Jack Challoner - 47
9. Matteo Grattarola - 54
10. Pere Borrellas - 58
11. Alexz Wigg - 64
12. Daniel Oliveras - 68
13. Gianluca Tournour - 79
14. Eddie Karlsson - 86
Junior Championship Final Results
1. Alexandre Ferrer - 5
2. Jorge Casales - 7
3. Benoit Dagnicourt - 12
4. Pol Tarres - 13 (25 cleans)
5. Jack Sheppard - 13 (24 cleans)
6. Tanguy Mottin - 16
7. Maxime Warenghien - 17
8. Giacomo Saleri - 26 (21 cleans)
9. Cedric Tempier - 26 (20 cleans)
10. Francesc Moret - 29
11. Matteo Poli - 31
12. Hakon Pedersen - 33
13. Luca Cotone - 35
14. Carles Traviesa - 38
15. Ib Andersen - 40
Youth Championship Final Results
1. Sverre Lundevold - 4
2. Steven Coquelin - 9 (26 cleans, 2x1, 1x2, 0x3, 1x5, TIME: 3:26:54)
3. Bradley Cox - 9 (26 cleans, 2x1, 1x2, 0x3, 1x5, TIME: 3:32:30)
4. Pietro Petrangeli - 13
5. Quentin Carles de Caudemberg - 14 (21 cleans, 7x1, 1x2, 0x3, 1x5, TIME: 3:46:06)
6. Timo Myohanen - 14 (21 cleans, 7x1, 1x2, 0x3, 1x5, TIME: 3:49:06)
7. Francesco Cabrini - 16 (24 cleans)
8. Martin Matejicek - 16 (22 cleans)
9. Martin Pochez - 18 (24 cleans)
10. Luke Walker - 18 (21 cleans)
11. Oriol Noguera - 19
12. Ignacio Martin - 34
13. Ignacio Fernandez - 42
14. Diogo Vieira - 49
Photo Coverage
Free Public Photos (10)
Trials Central Supporters Photo Coverage (140)
Trials Central Supporters Exclusive Maximum Resolution Photo - Takahisa Fujinami (15MB)
Full results from this event are available for download in PDF format.