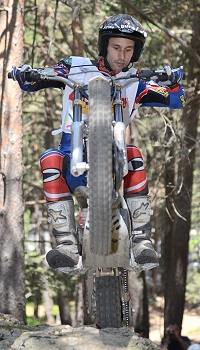 Albert Cabestany - Sherco brought to an end Toni Bou's - Repsol Montesa winning run as he took victory on the second and final day of the Andorran Grand Prix held at Sant Julia De Loria. Bou was, in fact demoted to fourth spot on day two as a late five sent him tumbling off the podium. Jeroni Fajardo – Beta was once again the runner up and collected the most championship points over the weekend to consolidate his second place in the general standings. Adam Raga - Gas Gas remains part of the three-way fight with Cabestany and Fajardo to become 2012 vice FIM Trial World Champion as he returned to the podium thanks to two consistent lap scores.
Bou stole the early march and looked solid out on a course that featured four modified sections that had been changed to increase their severity. His first loss came at the difficult fourth hazard, where he needed a dab on the final series of steps. Toni's only other mark came in the penultimate section where his single dab looked precautionary in order to protect his lead. Bou's advantage over Cabestany was just two marks at the end of lap one, as he in turn held a single mark advantage over Fajardo at this stage of the Trial.
However Bou's ninth win in a row was about to slip from his grasp as he fived section four on his second visit, for touching a flag, and then failed at section fourteen whilst holding a share of the lead. Cabestany stayed strong through the closing hazards to take his first GP win since Andorra 2006.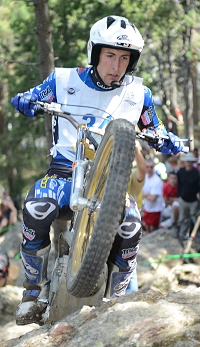 Despite fiving section eight on lap two Fajardo finished as runner up for the second successive day, whilst Raga sneaked onto the podium after beating Bou by a single mark. This was the first time Bou had missed out on a rostrum place since the second round in Portugal in 2010. Takahisa Fujinami - Repsol Montesa completed today's top five, with James Dabill – Beta taking sixth spot once again.
France's Alexandre Ferrer – Sherco clinched the 2012 FIM Junior Trial World Title with three counting days still remaining and despite placing fifth today. Ferrer can now not be caught in the general standings with this class using the best eleven from thirteen counting days to decide the champion. Ferrer will now move up to the World Pro class for the last two rounds in Italy and Great Britain. His French compatriot Benoit Dagnicourt – Beta was the Junior victor on day two, as he finished six marks ahead of Jorge Casales – Gas Gas who again filled the second step of the podium. Jack Sheppard – Beta made a welcome return to the rostrum in third position after struggling all season with a wrist injury. Spain's Pol Tarres – JTG was fourth today, and has now overtaken Francesc Moret – Montesa in the fight for second place in the general standings.
French rider Steven Coquelin – Gas Gas took top honours in the Youth category today, as he narrowly defeated Bradley Cox – Beta after a day long battle with his British rival. Only two marks separated these two young rivals, as they enjoyed a comfortable advantage over third placed Sverre Lundevold – Beta from Norway. Coquelin now looks favourite to lift the Youth title, whilst team-mates Cox and Lundevold contest the runners up spot in the series standings. All classes will resume battle in Italy in two weeks time.
World Championship Final Results

1. Albert Cabestany - 10
2. Jeroni Fajardo - 13
3. Adam Raga - 14
4. Toni Bou - 15
5. Takahisa Fujinami - 28
6. James Dabill - 51
7. Michael Brown - 53
8. Daniel Oliveras - 64
9. Pere Borrellas - 70
10. Matteo Grattarola - 72
11. Jack Challoner - 73
12. Eddie Karlsson - 82
13. Alexz Wigg - 89
14. Gianluca Tournour - 94
Junior Championship Final Results
1. Benoit Dagnicourt - 2
2. Jorge Casalas - 8
3. Jack Sheppard - 11
4. Pol Tarres - 15
5. Alexandre Ferrer - 16
6. Maxime Warenghien - 17
7. Francesc Moret - 23
8. Tanguy Mottin - 27
9. Cedric Tempier - 32
10. Matteo Poli - 34
11. Carles Traviesa - 38
12. Kyle Middleton - 41
13. Luca Cotone - 43
14. Hakon Pedersen - 44 (15 cleans, 5 x 1)
15. Giacomo Saleri - 44 (15 cleans, 2x1)
Youth Championship Final Results
1. Steven Coquelin - 20
2. Bradley Cox - 22
3. Sverre Lundevold - 31
4. Francesco Cabrini - 33 (18 cleans)
5. Luke Walker - 33 (16 cleans)
6. Martin Matejicek - 36
7. Oriol Noguera - 39 (20 cleans)
8. Martin Pochez - 39 (17 cleans)
9. Pietro Petrangeli - 41
10. Ignacio Martin - 43
11. Timo Myohanen - 44
12. Ignacio Fernandez - 50
13. Quentin Carles de Caudemberg - 52
14. Diogo Vieira - 68
Photo Coverage
Free Public Photos (10)
Trials Central Supporters Photo Coverage (140)
Trials Central Supporters Exclusive Maximum Resolution Photo - Adam Raga (16MB)
Full results from this event are available for download