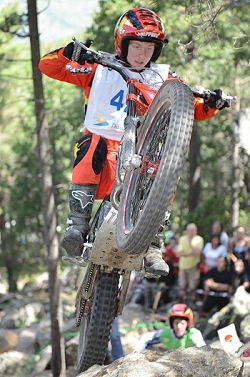 Eighteen-year-old Jitsie factory Beta rider, Jack Sheppard continued his return to form by achieving his best result and first podium position of the season today at the second day of competition at the Grand Prix of Andorra, the fifth scoring round of the 2012 FIM Trial World Championship.

Returning to the mountains high above the small town of Sant Julia de Loria, as on the previous day, Jack started the trial strongly, cleaning the opening three of the fifteen section lap. The fourth section saw the teenager drop three marks which, by his own admission, were unnecessary and due to trying to rush through the hazard too quickly. Further single dab rides in the tough seventh and eighth sections, another three in the twelfth and a final dab in the fifteenth section saw Jack finish the first half of the competition on a score of nine, putting him in a respectable fifth position at the halfway mark.

The final lap of the trial was to prove to be Jack's defining moment as he dropped just two marks, both single dabs, over the fifteen sections to put him on a final score of eleven for the day, eight marks behind eventually winner Benoit Dagnicourt – Beta and just three marks behind runner-up Jorge Casales – Gas Gas, but sufficient to claim a much-sought-after podium place.

Jack will now return to the UK where he is appearing at the Goodwood Festival of Speed next week before preparing for the penultimate round of the 2012 FIM Trial World Championship in Italy in two weeks time.

Commenting on today's event, Jack said "Again, I started the day very well. I cleaned the first three sections then had a slack three on the fourth section which I didn't really need. I was just rushing things again even though I had plenty of time. I had another three near the end of the lap, but other than that felt I was riding really well. "

Jack continued, "I felt confident at the start of the second lap and knew that a podium place was within reach. I had two dabs over the lap which I could have been done without, but ultimately they didn't affect my final position. I was close to the podium yesterday and really glad to be on it today. That's more like the kind of riding I should be doing. My wrist is still holding up. The sections themselves are fine, it's riding between them where I can feel it and I did struggle slightly on the second lap, but had plenty of time so just took things steady."

"I'm obviously pleased with today's result, but will be working to improve on that over the remaining rounds, especially at my home round in the UK at the end of July. "