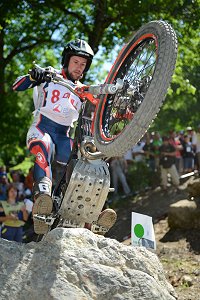 James Dabill came close to securing his first ever outdoor podium place at the penultimate round of the 2012 FIM World Trials Championship but instead finished in a dominating fifth position for the third time this year.
With an incredibly challenging lap set out by the Italian organisers, Dabill out qualified his Spanish team-mate Jeroni Fajardo for the first time this season, and demonstrated that he could well make an appearance on the podium before the season concludes.
The Italian round of the championship is the only single-day round of the 2012 season, with the European Championships being held on the Saturday - nevertheless, the day was full excitement and eventually saw the 2012 title handed to Toni Bou (SPA - Montesa) as he recorded his ninth win of the season.
Factory Beta rider Dabill, looked even more competitive in the Italian mountains this weekend, and despite two consecutive fives' on sections six and seven, he concluded the opening lap with just 21 marks, the same as Takahisha Fujinami (JAP - Montesa) and tied in third place. Dabill's strong first lap fended off previous World Champion Adam Raga (SPA - Gas Gas) who concluded his opening lap with 26 and also an off-form Jeroni Fajardo (SPA - Beta) with 39.
The final lap for Dabill looked promising too, just one mark dropped on the very challenging third and fourth sections demonstrated a truly impressive ride, considering every other rider conceded at least one maximum penalty. The Leeds rider remained strong throughout the majority of the lap, but the severity of the sections played its tole on James'
forearms and two crashes at sections eleven and twelve scuppered the Yorkshire riders chanced of a podium finish.
Talking about the event, James comments, "I have ridden really well today and I am unlucky only to be fifth. Towards the end of the second lap we were really short on time and I struggled to hold onto the bike during some of the more physical parts of the final sections and lost a few disappointing marks"
"It it nice to be back in the hunt for the podium though, I am really happy with the set up we have at the moment and hope I can continue this form into my home event at the next round in the UK."
A sixth placing for James' team-mate Jeroni Fajardo was his worst finish of the year, but he remains in third position in the championship, with a five point cushion from Adam Raga. James' result today has developed a dominating 28 mark advantage over fellow British rider, Jack Challoner who only managed to finish in tenth position at the Italian round.