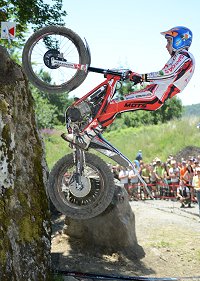 KX-Energy Motorcycle Trials rider Michael Brown took his Gas Gas machine to a very well deserved ninth position at the penultimate round of the 2012 FIM World Trials Championships, held in Italy.
Notorious on the Trials circuit for being difficult, the 2012 edition of the Italian GP was no exception. The event, held on the outskirts of Santa Stefano D'Avento about an hour and a half from the northern city of Genoa, was made up of many big steps, big rocks and slippery bankings providing a mixture of challenges for the seventeen World Pro contenders.
Tackling the diverse fifteen section lap, Michael Brown came into immediate difficulties on sections three to eight, scoring six maximum marks in quick succession. Fully aware that these sections were arguably the hardest sections on the 2012 calendar, Brown was determined to improve on the less than perfect start, and pulled together four exceptional clean sections towards the end of the opening lap.
With this round making up one of only three point scoring opportunities left in the 2012 championship, the Scarborough KX-energy rider was keen to improve on the standard set out on the opening lap.
Michaels' fighting spirit was evident throughout the second lap, but as the Yorkshire rider battled through every section, the Italian heat started to take its toll. Another four exceptional cleans on sections nine, ten, twelve and thirteen were amongst the best of the day, but wasn't enough to improve on the 42 marks lost on the opening lap, as Brown could only equal his best effort and concluded the day on 86, some four marks better than tenth man Jack Challoner (GBR - Beta).
Talking about the event Michael comments, "I cannot be too disheartened not to be up in seventh like the last round, there are a lot of good riders around the mid-field, Matteo Grattarola had a slightly better day than me and took his Gas Gas to eight position."
"I am really looking forward to the British round of the Championship in Carlisle, it'll be really great to ride in front of the home crowds and hopefully I can finish off the championship well".
Michael's result here leaves him in ninth position in the championships, just two points behind Spanish contender Daniel Oliveras.