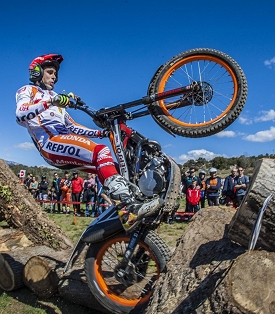 Repsol Honda Team rider Toni Bou grabbed second place on the day in the opening round of the FIM Trial World Championship held in Olvan and Cal Rosal, Barcelona.
Toni Bou had a satisfied grin on his face after the opening day of the world outdoor championship in Cal Rosal. Expectations hadn't looked that bright in the run-up towards the trial after Bou had sustained a broken shoulder ligament in training, which played an important part today in the champion's performance aboard the Montesa Cota 4RT.
In spite of getting through the first two sections mark-free, the Spaniard suffered severe whiplash that left him grimacing in pain. On lap two, Bou had started to accumulate marks due to a lack of strength in his right arm. The rider managed to put the physical issues behind him as he headed into the final stages, getting back into the fray and battling for a podium place, before finishing in second overall position, which leaves the flavour of victory on the palate. These 17 points could prove to be crucial in the fight for the championship.
Repsol Honda Team sidekick Jaime Busto had a bitter-sweet experience. After the first two laps the younger held a strong overall position. On the final round several errors were enough to force the young-gun out of a podium place.
Japanese rider Takahisa Fujinami, in spite of being currently on top form, made a few too many mistakes that raised the score on the mark sheet. Fujinami will be looking to improve on his overall seventh place tomorrow.
| | |
| --- | --- |
| | I'm very happy with the way that I am physically. It really wore me out. It was very tough, but I'm happy with it because if things continue this way then it will get better. The result was the least of my worries; I'm very pleased and would like to thank the team and especially Doctor Joaquim Terricabras, who has done a great job. I'm really thankful. I have a broken tendon and a luxation in the bicep. The muscle is holding up and I can go on the bike. The third lap was a really good one. Tomorrow I'm going to be exhausted because today was so tiring. If we can salvage something out of the weekend and be recovered in time for Japan, that will be great. We have gone from thinking that the championship was lost to thinking about first or second place again. |
| | I was behind Jaime on the first lap and I saw that he was going really well. I tried to do the same as him, but in the two final sections I made two faults. In the final section, the easiest of them, with the pressure of having to finish in time I picked up a fault in the beginning. I realize that I let myself get overcome by the pressure. The result, seventh, I wasn't expecting, because I feel great. I did some good stuff too. |
| | On the first two laps I felt really super-comfortable, especially in the first which seemed as if I had been here all my life. On the third I came across several ruts and made some mistakes that I shouldn't have made such as breaking a tape with my boot and some errors in trajectory. Let's hope it goes better tomorrow. |