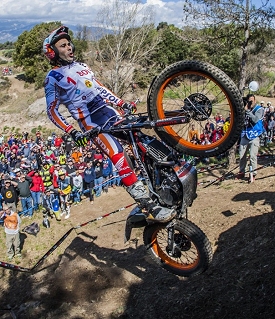 Even carrying a serious shoulder injury Toni Bou is still capable of pulling a surprise out of the bag. Today, in Olvan and Cal Rosal, the Repsol Honda Team rider was able to ratchet up the pressure and make off with the winning prize. Bou, albeit an off-form version, is now the new championship leader.
Mighty Bou is back. The rider took the bit between his teeth for day two of the opening round of the FIM Trial World Championship season in Olvan and Cal Rosal. The day was far from easy though for the Montesa Cota 4RT rider struggling all weekend with an injured right shoulder. Today, however, a determined Bou took a firm, error-free command of the event. Yesterday's pain had eased up enough to enable the Repsol Honda Team ace to set his usual high standard in a GP which saw him accumulate less than half the marks of second place Adam Raga.
Jaime Busto, like team-mate Takahisa Fujinami, had a change of fortune today, notching up more mistakes than yesterday and making chances of a podium place ever more slim. The two had set out hoping for a productive season start but were unable to accomplish the task. The Basque rider repeated a fourth place finish with Fujigas pulling back positions but not reducing the points as much as he had previously hoped.
The next stop for the Repsol Honda Team will be the Japanese Grand Prix on 23 th and 24th April. Toni Bou will arrive in Motegi overall leader with 37 points, five more than Adam Raga and eight points clear of Albert Cabestany in third place. Jaime Busto is fourth in the standings with 26 and Takahisa Fujinami seventh with 20 points.
| | |
| --- | --- |
| | I had a bad night; it's been a really complicated weekend, but today the pain let up a bit and was more bearable. I don't know how, but today I was able to compete with Adam at the highest level. The changes to the four sections turned out to be a good thing especially in section six, which I was able to get over three times and not Adam. I was able to battle on in spite of the injury and I'm really pleased with the final result as I wasn't expecting to be the leader in the world championship ten days ago. |
| | The only positive thing to come out of today is that I was able to finish in fifth. I think that everything is in my head as I'm on top form and my technique is right up there too. I'm much better than last year, but for all the good things that I've done on the difficult parts, I've come undone on the easy ones. I need to be up. Today I could have finished in third but I didn't make it. In the two forthcoming weeks before Japan I will work on the psychological aspect to be at my best for the home GP. |
| | Today was completely different to yesterday: it went really badly. The result is the same but not the sensations. Today went horribly and from the first lap I made a lot of absurd mistakes. I was very consistent but with many marks. Now I will have to prepare well for Japan, which I hope goes better than here. |