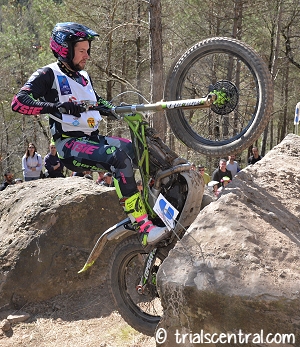 The 2016 FIM Trial World Championship kicked off with two fiercely fought days of competition in Cal Rosal, Spain as the elite riders within this specialised discipline looked to get the new campaign started in strongest way possible. Factory Vertigo rider, James Dabill confirmed that both he and the revolutionary Combat can compete at the highest level as he secured a maiden GP podium for the team, and the second of his career.

Third spot on day two for Dabill offset some of the frustration for him only managing to finish ninth on the opening day during two days when very little separated success and disappointment. Current World number three Jeroni Fajardo was more consistent over the weekend with fifth and sixth places to show for his first outdoor Grand Prix on the Combat.

Day one began in cool but bright conditions, with the sun shining brightly over the twelve sections that were scattered around a course that stretched from the host town of Cal Rosal to the neighbouring town of Olvan. With the exception of the two man made hazards - sections one and five - the remaining tests consisted of dry boulders on steep dusty inclines. Fajardo immediately confirmed his liking of the terrain as he rode his fuel injected Combat into second spot on the first lap behind surprise leader Jaime Busto with a loss of six marks.

However, Jeroni was to suffer badly on his second outing as he lost his initial rhythm and notched up four maximums on lap two to slip down the order. Back to his best, Fajardo recorded the second best last lap score on his final tour losing a mere three marks to climb up to fifth place come the finish and within touching distance of a top three placing. Two slightly disappointing opening laps by Dabill left the British rider with work to do, thankfully a much improved final lap showing saw James eventually claim ninth spot. Other Vertigo riders Francesc Moret and Benoit Dagnicourt placed sixteenth and twentieth respectively on day one.

More blue skies and sunshine defined the second day of competition at the Spanish GP as Dabill immediately announced himself a real contender for a podium place from the outset with an opening lap that put him in third spot. Despite a slight loss of momentum on his second lap James regrouped brilliantly on his final tour to earn himself his first rostrum finish since 2012. Fajardo's day was one of frustration as small errors stopped him challenging the front runners and him eventually having to settle for sixth spot on the closing day of his home GP. Sunday saw Moret and Dagnicourt place seventeenth and nineteenth respectively.

A delighted Dabill said. "This one is for Martin Lampkin. To be able to give Vertigo their first World Championship podium and at the Spanish GP is very special for everyone involved in the team. It's a shame Dougie (Lampkin) could not be here to see it happen, but this result is about the hard work that has been done over the winter and which he has been a big part of. I now need to make sure I am at the sharp end in the next few rounds."

A frustrated Fajardo stated. "It has been a difficult weekend for me, the results are not so bad as the scores have been close, but we came here to do better especially as it was my home event. We have learned a lot this weekend, so now we ned to go away and make some changes so that we can be stronger when we arrive in Japan."

The second round of the 2016 FIM Championship will take place in Motegi, Japan on 23/24 April.