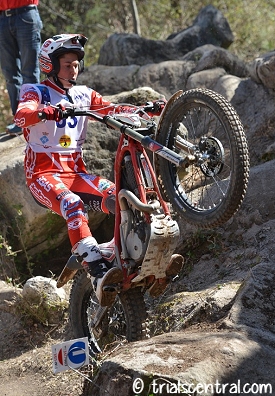 The 2016 Trial World Championship got off to a great start at Cal Rosal. This was accomplished in style by the young hopefuls from Gas Gas with a clear victory for Arnau Farré on Saturday and a third place for Jack Price on Sunday, both in Trial2, and a second win for Jack Peace, absolute master of the Trial125 category.
The rider from Lleida marked a perfect Saturday, handing in his card at the end of the day without a single penalty. A result, which gave a clear victory to Farré in the recently launched Trial2 category, the new name for what was the World Cup. His fellow Gas Gas riders, the British riders Dan Peace and Jack Price finished in fifth and seventh positions followed by Marc Riba, 13th, in his first Trial World Championship with Gas Gas and the RFME team.
The next day, and after the changes made by the organisation, the zones got more complicated for the riders and Farré was unable to repeat his fantastic performance of the day before. Two fifth positions in the second round dropped the Gas Gas Factory Trial Team rider down to 8thposition despite his efforts to claw his way back up. Jack Price took the place of the man from the Spanish rider, this time achieving the third place on Trial2 podium with only two points from second position. Meanwhile Marc Riba improved his result from the previous day with a 9th position.
Optimism is infectious and young Jack Peace was the great surprise in Trial125 category. The British rider had never competed on an international level and at Cal Rosal, in his first entry in the Trial World Championship, Peace has shown himself to be one of the great hopes in trial achieving a double victory, both on Saturday and Sunday on his debut.
Meanwhile, in the maximum category, the Gas Gas riders got their hand in with the Trial World Championship. Matteo Grattarola was the best classified on Saturday among the riders of the team taking part in TrialGP. The Italian went from good to even better finishing 10th after a first day where the difficulty of the zones gradually increased as other riders passed through. In parallel, the German Franzi Kadlec finished 11th, just behind his teammate. The Norwegian Hakön Pedersen, the British rider Michael Brown and the trans-alpine Gianluca Tournour who is in his first TrialGP season, occupied respectively, the positions 18th, 19thand 22nd on the results table.
On Sunday, Kadlec and Grattarola switched places at 10th and 11th positions from the day before. Pedersen repeated his 18th place in front of Tournour and Brown, with 21st and 22nd positions respectively.
After a return to the Trial World Championship which was highly charged with significance for Gas Gas, true to its motto, 'Still Riding', the team is now preparing for the second date which is to be held at the Motegi circuit, the weekend of the 23rd and 24th April, The Japanese GP.