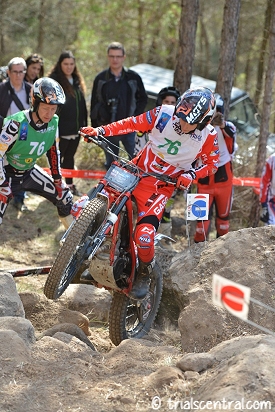 Jack Peace rode his way to double victories in Spain in the Trial125 class. Image: Trials CentralRound 1 and 2 of this year's World Championship in Spain was on the whole a great weekend for GAS GAS. The GG Team Truck was a very busy place at the weekend supporting Matteo Grattarola, Franz Kadlec, Michael Brown, Hakon Pederson, Gianluca Tournour, Arnau Farre, Jack Price, Dan Peace and Jack Peace.
Team JSTGGUK rider Jack Peace was in awesome form all weekend and won the Youth 125 class both days by a considerable margin. Jack kept calm under the pressure and claimed his first WTC win on Saturday which he repeated on the Sunday. Thanks to Jack he put the GG TXT125 RACING on the top step of the podium. A massive congratulations to Jack and all concerned.
Road and Trials GG rider Jack Price also had a soild start to his season riding well. He made two mistakes on Day 1 which dropped him to 7th. He improved on Day 2 and finished on the podium in 3rd place.
The Trial2 class is very competitive and consistency is key. The sections were also relatively easy which made for a nervy weekend. GG Factory rider Arnau Farre won on Saturday on clean and then slipped to 8th on Day 2.
Team JSTGGUK rider Dan Peace had a welcome return to the WTC. This was Dans first WTC event since France in the summer last year and had a great ride on Day 1 finishing 5th. Dan slipped to 15th Day 2 with a few too many mistakes.
Team JSTGGUK rider Michael Brown struggled all weekend. No excuses here just a massive lack in confidence which Michael is finding it hard to deal with. He finished 19th on Day 1 and 22nd on Day 2.
For me it was great to see GASGAS back in the WTC paddock. The riders, minders etc. all worked together and made for a great Team effort :)
Back in the UK Team JSTGGUK rider Dan Thorpe finished 5th at the S3 Chris Carter National and JSTGG girl Katy Sunter was 3rd in the Clubman Class.