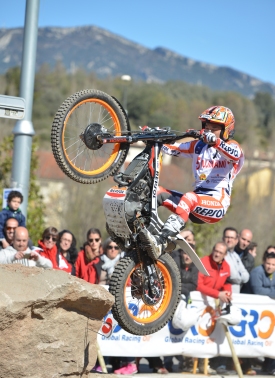 Japanese hero Takahisa Fujinami – Repsol Honda will reach an amazing milestone this weekend when on Sunday, in his home Grand Prix at Motegi, Japan he will start his 300th event in the FIM Trial World Championship. Fujigas, as he is fondly known globally by Trial fans, at the age of thirty-six years and three months he is the most senior rider on the tour and in his twenty-second season riding in the series having always competed for Honda/Montesa.
Fujinami who is by far the most successful Japanese rider in the history of Trial, has an incredible record in the blue ribbon class. He has finished in the top ten in each of the twenty-one years he has contested the series; has been in the top five for twenty consecutive years; he was in the top three for fourteen consecutive years from 1992 through to 2011 inclusive and has been vice champion on seven occasions, from 1999 to 2003 behind Dougie Lampkin and 2005-2006 to Adam Raga.
Fujinami was of course FIM Trial World Champion back in 2004 when he brought Lampkin's seven year reign to an end and remains Japan's second ever off road World title holder, the other being secured by Akira Watanabe, who won the 125cc motocross title for Suzuki back in 1978. During Takahisa's long career he has finished on the podium no fewer than one hundred and fifty-three times and taken a total of thirty-two victories.
Those thirty plus victories he has won, include victory at his home Japanese GP a total of six times, at the same time accumulating an almost unbelievable twenty-four podiums and amassing five hundred and four points on home soil. The now Barcelona-based Japanese star heads back to Motegi this weekend fully fit and looking to add to his podium total.
The opening round of the 2016 FIM Trial World Championship staged at Cal Rosal in Spain did not go to plan for Fujinami, finishing a disappointing seventh on the first day although improving to fifth place on day two. Said Fujinami after the event. "The only positive thing to come out of today is that I was able to finish in fifth. I think that everything is in my head as I'm on top form and my technique is right up there too."
"I'm in much better shape than last year, but for all the good things that I've done on the difficult sections, I've come undone on the easy ones. I need to improve. Today I could have finished in third, but I didn't make it. In the run-up to Japan I will work on the psychological aspect to be at my best for my home GP."