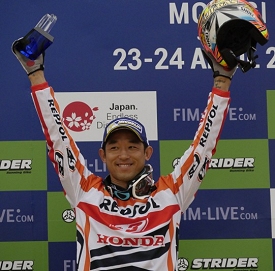 The two Repsol Honda riders made it onto the rostrum after a tough trial on the first day of the Japanese GP. Toni Bou keeps hold of the top spot in the overall standings, while Fujinami is poised to make trial world championship history.

The FIM Trial World Championship second round in Japan, with Toni Bou defending first place in the general rankings, finished with the incumbent champion clinching second place on the day. A positive result considering that the Spanish rider is still carrying an injured right shoulder ligament and is unable to ride in his usual fashion.
Today's race conditions were hardly favourable to the world championship leader either, after Thursday's rain left much of the course a muddy, slippery quagmire and making sections far more physically demanding. The exertion from the previous championship outing was taking its toll on Toni Bou – as always aboard the Montesa Cota 4RT – who had to accept runner-up spot. Bou, however, still maintains his place at the top of the general rankings.
Takahisa Fujinami gave a display of strength today in Motegi, showing that he still has the same spark that he did on his debut. Tomorrow will be his 300th world championship event. The former champion was able to anticipate the celebrations of this historic landmark by taking a podium place in front of the home crowd. Today marked the Repsol rider's 154th world championship podium finish. The crowd got behind Fujinami after a below par first lap that saw the rider in sixth place after a fall which damaged the front end of the Montesa Cota 4RT. After changing the front forks, Fujinami put in an excellent second lap, reducing the points and moving up into a potential podium position, which he continued to hold until the end of the trial.
Jaime Busto started the Japanese GP well and was soon up in a podium position too, but as had previously occurred in the Catalan GP, a series of errors gradually eroded the earlier good work. The Spaniard battled with team-mate Fujinami, who in the end was able to sneak onto the podium by a single point.
Tomorrow will see the second and final day of the Japanese GP and should feature the same characterist ics as today's with twelve sections to be completed over twelve laps. The last rider to take the start will do so at 11:00 hrs local time.
| | |
| --- | --- |
| | I arrived here in slightly better physical condition than in the last race, but I had a lot of difficulty to get over the huge physical effort that I had made in the previous GP. So, once again, I wasn't at 100%. Today the trial has been much more demanding and I had already hurt myself by section one with a triple boulder. I started to sweat and the tape on my shoulder moved and we were unable to put it back properly. I suffered, but I'm happy with the second place. We hope to keep fighting tomorrow and come away from here with a good result. |
| | Things didn't begin too well, but I'm super-happy about the way that they finished! I fell in section three on the first lap and hit the bike really hard. I bent the handlebars and the suspension, but didn't have time to change it and I continued as best I could. We were able to change the front end before the second lap started, so things went much better. I recovered and I was able to finish calmly even though Jaime was really pushing. I'm very pleased with this podium finish in Japan. It is important not just for me but also for the team, for Honda and for all the fans of trial who have come down to Motegi to see us. |
| | I think that things have gone really well today. Yeah, it is a shame that once again I missed out on the podium by a point, but I think overall it hasn't been that bad. I made a few mistakes that I think that I can rectify for tomorrow. Today the sections were quite slippery and they changed on every lap because they were getting very rutted, so I had to give it a lot of gas…. I liked that. I felt comfortable and I hope to improve tomorrow. |