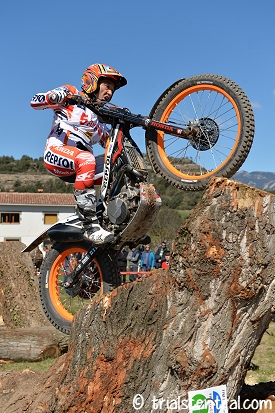 The FIM Trial World Championship comes back to Europe after its habitual yearly excursion to Japan's Motegi Circuit. The event this weekend will mark the third date in the outdoor calendar. Repsol Honda Team will be looking to further the string of successful results since the trial season began.
For Bou, the German GP should prove to be a test to see how the rider's injured right shoulder tendon is progressing. Repsol Honda Team champion Toni Bou arrives as leader of the event overall and sporting a five-point advantage over nearest rival Adam Raga. Bou, who also leads in the Spanish championship after a second win last weekend, is expected to maintain the point surplus at the top of the leaderboard or even extend it.
Team-mates Takahisa Fujinami and Jaime Busto will be in the battle for a podium spot too. 'Fujigas', who performed well in Japan, is currently showing the kind of form that could bring a result. Jaime Busto, likewise, will be hunting down a place on the final rostrum. The youngster sits sixth in the overall rankings one point off Fujinami.
The event is to be held in Gefrees, where the world championship last visited in 2011 with Repsol Honda Team achieving a double with Bou and Fujinami on the podium.
The victory was for the Spaniard who grabbed a first win in the German GP, whilst Fujinami clinched a ninth podium place in the country, the most ever achieved in Germany along with Dougie Lampkin.
Gefrees first received the world championship in 1980 and the winner was the Finn, Yrjo Vesterinen, who was the first to pick up the top honours for Montesa in Germany. The following year, 1981, it was Spaniard, Manuel Soler who managed to win the trial also with Montesa. It was his fourth and final triumph in a world championship trial.
The last time that the German GP was held over two days was back in 2005, when Freixa and Lampkin, both with Montesa, finished on the podium on the first day and Fujinami on the second.
This will be the 14th participation of Takahisa Fujinami in the German GP which will be remembered because it was in this country in 1997 where he won his first world championship trial (Talheim) 'Fujigas', who has now taken part in over 300 world championship trials, has twice won the German GP. For Toni Bou it will be the sixth participation and the maiden outing for Jaime Busto.
The German GP will consist of three laps of a twelve kilometre course which will be made up of twelve sections. As usual the last rider to start will do so at 11:00 hrs (C.E.T.).