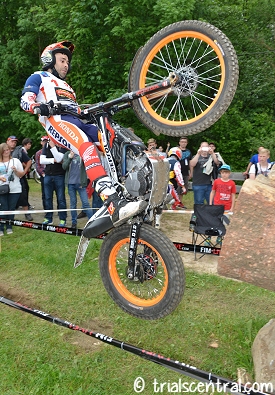 Toni Bou – Repsol Honda extended his lead at the top of the 2016 FIM Trial World Championship after he recorded his second win of the weekend on day two of the German Grand Prix held at Gefrees. After a tense opening tour, Bou rode himself well clear of his rivals over the remaining two laps to take his latest victory by seventeen marks. Again it was Adam Raga – TRS who was runner up to Bou, as James Dabill – Vertigo claimed his second podium place of the season to complete today's top three. Rain overnight increased the severity of Sunday's Trial resulting in modifications to two of the twelve sections, but apart from a very light shower early on, the forecast inclement weather never arrived and for the second day running the competition took place in warm and dry conditions.
Equally, whilst Bou was not challenged by Raga over the closing stages, Adam also had a comfortable gap over his rivals towards the end of the Trial, meaning the real fight was for the final podium place. Dabill was the rider to eventually claim this conveted position, but he had to see off the attentions of both Jaime Busto – Repsol Honda and Busto's team-mate Takahisa Fujinami – Repsol Honda – who ended the day fourth and fifth respectively with six marks splitting this battling trio.
Outside of the top five, Jeroni Fajardo – Vertigo had a day he will probably want to forget as he ended up in a distant sixth spot, whilst in contrast Eddie Karlsson – Montesa enjoyed his best result of the 2016 campaign after he came home in seventh position. Pol Tarres – TRS, Franz Kadlec – Gas Gas and Jorge Casales – Beta were the last three riders inside Sunday's top ten respectively.
Reflecting on his fourth victory of the season Bou said. "Today I rode with my shoulder strapped and also with a support and this proved to be much better than yesterday. I hurt it slightly when I crashed in section seven on the first lap, but after that it has not caused me any real problems. From my results you can see I improved each lap and in the end I managed to make a good gap over Adam (Raga) by the end of the Trial. Overall it has been a good weekend for the championship and now I can look forward to the next round in Andorra."
Jack Price – Gas Gas made it a real weekend for celebration as he secured his second victory in a row in the Trial2 class just a day after his nineteenth birthday. Price ran out a dominant winner on day two finishing some twenty-four marks ahead of his compatriot Dan Peace – Gas Gas as Britain again claimed a 1-2-3 with Iwan Roberts – Beta completing Sunday's Trial2 podium. Roberts' rostrum spot came at the expense of Benoit Bincaz – Scorpa who lost out on a most cleans tie break to the former series leader. With Bincaz demoted to fourth Teo Calairo – Beta completed today's top five. Price's double wins now sees him move sixteen points clear of Roberts at the head of the overall standings.
Home rider Jarmo Robrahn – Beta made it back to back to wins as he again took victory in the Trial125 class. However, on this occasion it was a much closer fought battle as series leader Jack Peace – Gas Gas did his absolute best to return to winning ways after having suffered his first defeat of the season just twenty-four hours earlier. Robrahn ended the day just two marks in front of Peace as Max Faude – Beta again made it two German riders on the podium when he finished third for the second day running. Peace remains top in the general standings and is now sixteen points of his nearest rival, Faude.
The 2016 FIM Trial World Championship will now continue in Andorra on 11/12th June, which will mark round four of the current series.
Results

TrialGP Results

1. Toni Bou - 30

2. Adam Raga - 47

3. James Dabill - 64

4. Jaime Busto - 67

5. Takahisa Fujinami - 70

6. Jeroni Fajardo - 84

7. Eddie Karlsson - 87

8. Pol Tarres - 89

9. Franz Kadlec - 91

10. Jorge Casales - 92

11. Albert Cabestany - 95

12. Loris Gubian - 103

13. Matteo Grattarola - 109

14. Alexandre Ferrer - 114

15. Miquel Gelabert - 117

16. Oriol Noguera - 125

17. Hakon Pedersen - 159

18. Ole Kristian Seorensen - 172

pdf Download Full Results (143 KB)

Trial2 Results

1. Jack Price - 33

2. Dan Peace - 57

3. Iwan Roberts - 58 (18 cleans)

4. Benoit Bincaz - 58 (16 cleans)


5. Teo Colairo - 68

6. Gael Chatagno - 71

7. Filippo Locca - 73

8. Arnau Farre - 75 (13 cleans)

9. Luca Petrella - 75 (11 cleans)

10. Martin Matejicek - 76 (14 cleans)

11. Jonas Widschwendter - 76 (11 cleans)

12. Declan Bullock - 81

13. Marc Riba - 93

14. Pierre Sauvage - 94

15. Martin Kroustek - 96

16. Pietro Petrangeli - 98

17. Samuel Obrado - 106

18. Markus Schutte - 123

19. Noe Pretalli - 139

20. Maxime Varin - 151

21. Timmy Hippel - 153

pdf Download Full Results (156 KB)

Trial125 Results

1. Jarmo Robrahn - 36

2. Jack Peace - 38

3. Max Faude - 48

4. Paul Mehu - 84

5. Nicolai Widmann - 98

6. Christopher Wengler - 113

7. Julius Ilmberger - 141

pdf Download Full Results (117 KB)
Photo Coverage
Trials Central Supporters can access a gallery of 100+ hi-res and unwatermarked images from the second day of competition in Germany by clicking here
Free Public Gallery