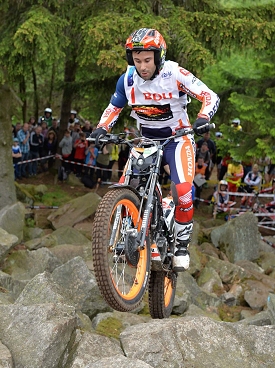 Toni Bou's name will once again be recorded as winner on the Gefrees roll of honour. The Repsol Honda Team ace, who had already won there in 2011, was in commanding form over both days of the third round of the 2016 FIM Trial World Championship. Bou, dealt a hammer-blow to the rest of the field with a near-perfect second lap, which saw the Spaniard pick up penalty marks in just two of the twelve sections. The rivals, meanwhile, were accumulating more marks than the Montesa Cota 4RT rider, meaning that Bou started the final lap with a substantial advantage and was able to ride pressure-free until the line.
After this – the third win on the spin and the fourth this season – Toni Bou tops the overall leaderboard with 114 points, eleven more than the nearest second place rival.
The Team had to hold its breath until the last moment to see if either Jaime Busto or teammate Takahisa Fujinami would make it onto the rostrum. In a closely-fought battle, with the rain complicating the first lap, the two colleagues constantly flirted with a podium position. After the second lap Busto was sitting in a potential podium position but was unable to hold on to it through the final assault. Teammate Takahisa Fujinami clocked up too many mistakes on the first lap, although he was later able to rectify the situation, collecting a respectable fifth final place just a few points shy of third. Nevertheless, Fujinami still climbs the overall leader to third place due to the results of his adversaries.
Next date for the Repsol Honda Team in the FIM Trial World Championship will be 11th and 12th June with the Andorra GP. Prior to this, the whole Repsol Honda Team of riders and technical staff will be present for the Catalonian MotoGP Grand Prix, to be held on 3rd and 4th June at the Barcelona-Catalunya circuit.
| | |
| --- | --- |
| | I think that after the mistakes that I made on the first lap, I was able to pull back well and perform a really good second lap. I was really tired for the huge effort that I had made yesterday, but it went pretty well. I felt much better riding the bike and the shoulder didn't bother me. This week's result is really good for the championship, because as I have said before and I'll repeat again; this year is going to be a really complicated championship. |
| | I think that the best thing about this weekend is that I come away from Germany in third place in the world championship. On the first lap I had a rough time and wasn't precise. I don't know if it was because I had fallen or because it was very slippery. After things went better. Thinking about it, if I come fifth doing it so badly, then I can hope that the coming trials go far better. The championship is long, but I am very positive about being in third position in the overall standings. We will fight harder in Andorra. |
| | Yes, today I was a lot calmer when I was competing in some of the sections. Something was going right, but I really did think that during the race things were going worse than they were. I was quite surprised to see that I was in third place at the end of the second lap. I don't know. I wasn't very precise and, sometimes, I shouldn't think about it too much as the others make mistakes as well. It's been another learning experience. |