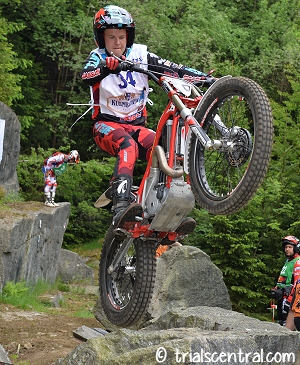 Jack Price took the lead in the Trial2 World Championship after the double victory achieved by this young British rider in the German GP held this weekend in Gefrees, in the North of Bavaria. The Gas Gas rider stands out head and shoulders in the classification after his magnificent performance in this, the third event of the World Championship after having visited both Spain and Japan.
On Saturday, his teammate in the Gas Gas FG Trial Factory Team, Arnau Farré, climbed on to the third place on the podium. The young rider from Lleida was unable to repeat his great performance on Sunday, when he finished 8th. However, Dan Peace took over from the Catalan on the podium, accompanying Jack Price in second position. The rider from the RFME, Marc Riba, with 11th and 13thpositions both days, and the Hungarian, Martin Matejicek, 15th and 10th respectively, finished off the great show put on by the Gas Gas riders in the third event of the Trial2 World Championship calendar.
After his double victory in Gefrees, Price is the new leader in his category by a difference of 16 points over his nearest competitor. His teammate, Arnau Farré, is occupying the third position in the table with 20 points, followed by Dan Peace, 4th, and Marc Riba and Martin Matejicek, 12thand 16th respectively.
The Trial2 riders were not the only ones to stand out from the crowd in the German GP, as Jack Peace had a double second place in the Trial125 class, in an event dominated by the riders on their home turf. The young British rider, one of the great promises in the world of trial, keeps his comfortable advantage of 16 points at the top of the World Championship classification after having won all the days of the two previous events, the Catalan GP, in Cal Rosal, and the Japanese GP, in Motegi.
In TrialGP class, Franz Kadlec was the rider who stood out most in the Gas Gas Factory FG Trial Team in Gefrees, which was a home GP for the young German rider. Kadlec finished off Saturday with an 11th position and won two more places on Sunday, finally getting a 9th place. Matteo Grattarola won 25thand 13th positions in the trial events after what was a complicated weekend for the Italian. Meanwhile, the Norwegian rider Häkon Pedersen, finished 17th on both days. Grattarola and Kadlec are in the 8th and 9th positions in the classification.