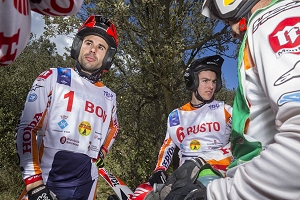 This weekend sees the fourth round of the outdoor trial season with the Andorra GP. The tiny country in the Pyrenees will play host to the decisive event which features three Repsol Honda Team riders among the top competitors.
After the Catalonian, Japanese and German GPs, this weekend the 2016 FIM Trial World Championship arrives in Sant Julià de Lòria.
Toni Bou, with four out of six possible wins to date, is currently leading the overall standings with an eleven point advantage over nearest second place rival. Repsol Honda Team companions Takahisa Fujinami and Jaime Busto lie in third and fifth. This marks the best all-round position for the team since the Basque rookie first joined the squad at the start of the 2015 season.
Toni Bou arrives at the event with a clear advantage after the twin victories in the German GP, yet the main concern for the team continues to be how the champion's injured right shoulder tendon will hold up in the Pyrenees.
Moreover, Takahisa Fujinami goes into the round four of the world championship in third place in the general rankings. There is very little margin in the standings with just two points separating the Japanese rider and his Repsol Honda Team Jaime Busto. Both will be looking for strong finishes to maintain their podium chances in the competition.
To talk about motorsport in Sant Julià de Lòria is to talk about trial. Since 1992, the year when the first race was held in La Rabassa, the Andorra GP has constantly been held in the Andorran location.
In the last 18 years, 27 races top category trial events have been hosted plus three editions of the Trial de Nations (1994, 2008 and 2014). The GP in 2015 took place on the west slope of the Valira River, near the Fontaneda highway.
In 2016 the classic La Rabassa (Naturlandia, 1,600m) route will be used with half of the sections at 1,700 metres above sea level. The 2016 Andorra Trial GP will be the only event of the season to feature 18 sections over two laps that take in a total of almost 20 kilometres.
The schedule for the start also differs from the other races this year: over both days the final participant to set off will do so at 10:00 local time.
2000 saw a Montesa podium lock-out over both days: Lampkin, Fujinami, Colomer on the Cota occupied all three steps of the rostrum. On ten different occasions Montesa riders have triumphed in some of the GPs. Dougie Lampkin and Toni Bou have collected four each. Marc Freixa won in 2001 and again in 2003. Takahisa Fujinami has never clinched victory in Andorra, but has been on the podium ten times in Sant Julià, six times in runner-up position. Jaime Busto, in his only appearance in the Andorran Trial GP last year, saw the rookie take sixth place.
| | |
| --- | --- |
| | The Andorra Trial GP is important for various reasons: it can be considered as a home GP; for the height at which it is competed which affects performance and also because it could prove to be decisive in the battle for the championship. Also, I will have to see how the shoulder puts up with it. We will have to be aware of many different factors. |
| | I think that this trial will be very important for everybody and we want to do it well. I hope that the altitude doesn't make things too difficult. I have trained really hard to be ready for this one and get a good result. This year I'm very motivated, I arrive better prepared than ever and I hope that is reflected in a good result. |
| | The Andorra GP is always a very difficult trial. The sections are designed for a low level, everyone is very close and the slightest mistake will be paid dearly. I prefer the more difficult trials because they give me better options for getting the result that I've been after for a year. |