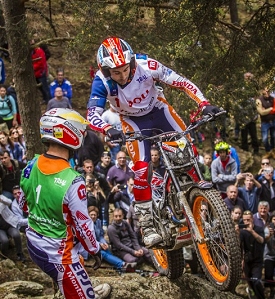 Andorra belongs to Toni Bou. The world champion continues his winning streak on the second day of the Andorra Grand Prix and edges further ahead in the championship. The podium still continues to elude Jaime Busto.
Repsol Honda Team wrapped up a great all-round weekend in Sant Julià de Lòria. Today, Sunday, saw a repetition of the results from recent championship trials with another triumph for Toni Bou aboard the Montesa Cota 4RT. Bou set out his stall early and had a four-point advantage over rival Adam Raga by the end of the first lap. By the second it was plain sailing for the Spaniard who lapped without picking up even a single penalty mark in any section.
The win marks a sixth victory for the Repsol Honda Team rider this season, the last five of which have been consecutive. Toni Bou arrives at the halfway point in the championship sporting a sixteen point advantage over his main rival in the general rankings.
Basque rider Jaime Busto missed out once more on a podium finish. Several errors early in the event weighed heavy on the rookie's scorecard. Busto failed to recover the points later. His comrade-in-arms at Repsol Honda Team, Japanese rider Takahisa Fujinami felt the full brunt of the judges on the second lap which left him without options of a better finish. Nevertheless, Fujinami holds strong in third place in the championship with a point more than teammate Busto.
Repsol Honda Team will remain in action next week for the French Trial GP which will be held in Lourdes.
I'm very happy for this perfect weekend. I wanted to win here after the trial last year. To have clinched the win both days is very positive. Yesterday the sections were very tricky, but today in the dry, I picked up far less marks. It's been a very positive weekend for the championship.


To live here and be able to work and train here is really good. Adam is really on form and here in Andorra he always makes things difficult. We have worked really hard and I have to thank the whole team for all the help that they have given us to get ahead in the championship. We have to not get distracted and continue with this line. Physically I'm feeling much better.

I started quite well and I held it together with a few marks but I picked up a couple of faults in sections 3 and 10, but that wasn't so bad. But towards the end of the first lap I was pushed for time and got a bit nervous and got a five in the final section, which should have been easy. On the second lap things went better but the ground was dry and the rivals weren't making any mistakes. In section 12 I had some problems with the non-stop rule and I picked up a five that weighed very heavy on me. In general, I'm very happy with the way that the bike is going. The team has done a fine job and I wish to thank them for that. At the halfway point of the season I'm third and I'm very pleased about that.

I started really badly as I made a few mistakes in a row. Later things got better and I managed to string together various zeros and that encouraged me a lot. I made some mistakes but I finished with some good feelings and with more clear sections. I'm pleased and I'm sure that the podium that we have been chasing for so long will arrive soon.