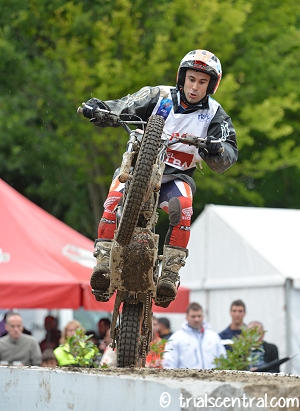 The opening day of the French Grand Prix in Lourdes that marks the fifth round of the 2016 FIM Trial World Championship was cut short after the competition had to be stopped to allow a medical helicopter access to a restricted part of the course to evacuate an injured rider's assistant who had suffered concussion, but was later confirmed to be in a stable condition. The event was declared a full result (with more than half of the Trial having been completed) after section five on the final lap of three. Toni Bou – Repsol was the eventual winner on a day when heavy rain caused havoc on the hillside course.
Bou made light work of the slippery hazards despite the inclement weather, but it was the course that really took its toll on both the rider's and less able assistants who needed be pulled up the rocky path that connected the lower opening five sections to the three hazards (six, seven and eight) that sat high above the spiritual town. It was on this part of the course that the unfortunate incident occurred, thus blocking the passage of the six remaining TrialGP riders – Bou, Adam Raga – Gas Gas, Takahisa Fujinami – Repsol Honda, Jaime Busto – Repsol Honda, Miquel Gelabert – Sherco and Jeroni Fajardo – Vertigo. The Trial125 and Trial2 classes were not impacted by this situation and were able to complete all three laps of twelve sections in their entirety.
Two strong opening laps saw Fujinami claimed his first runner's up spot of 2016 as Raga lost further ground to Bou in the title fight by finishing on the lowest step of the podium today. Bou now heads Raga by twenty-two points. Jorge Casales – Beta recorded his best result of the season to date as he placed fourth after beating James Dabill – Vertigo by a single clean in the tie decider. Dabill's team mate Fajardo sealed sixth position just one mark ahead of Matteo Grattarola – Gas Gas in seventh as Busto endured his worst finish of the 2016 campaign so far in eighth. Franz Kadlec – Gas Gas and yet again off-form Albert Cabestany – Sherco closed out the top ten on day one respectively.
Looking relieved to have come out on top on this strange and difficult day, Bou said. "Apart from the mistake in section eleven on the first lap I am happy again with my riding. For sure it was tough out there today with the sections, the course and the weather. Despite the conditions I still had a good feeling going into the final lap, and until the Trial was stopped. From my point of view Race Direction did the correct thing to stop it then, as if not the whole situation would have been impossible to manage. Now we have to be ready to fight again tomorrow."
Gael Chatagno – Sherco maximised his home advantage as he claimed his first ever win in the Trial2 class on the opening day of the French Grand Prix. Chatagno took a comfortable lead into his third and final lap, but he endured a tough closing twelve sections as he came under pressure from series leader and eventual runner up Jack Price – Gas Gas. Price finished just four marks shy of his French rival at the end of the Trial to increase his lead in the overall standings. Dan Peace continued his better run of form as he recorded his third podium placing of the campaign in the almost British like conditions. Fourth spot today for Iwan Roberts – Beta put him thirty-three point behind Price in the title chase, as Marc Riba – Gas Gas rounded out Saturday's top five in the Trial2 class.
It was back to winning ways for Jack Peace – Gas Gas today in the Trial125 class as he notched up his sixth victory of the season in the Trial125 class. Peace produced an outstanding performance in the wet and muddy conditions to end the day nineteen marks clear of his main title rival Max Faude – Beta who was victorious last time out. As was the case during both days of the previous round in Andorra, Spain's Eric Miquel – Sherco completed the Trial125 rostrum. After his triumph today Peace has extended his lead at the top of the general standings to nineteen points over Faude.
After the events of today and with further rain forecast in the next twenty-four-hour period, the three highest sections on the course look likely to be replaced by three new hazards lower down the hill in order to offer the riders and their assistants improved safety on the second day of the French Trial GP that will start at just after ten o'clock local time tomorrow.
Results

TrialGP Results

1. Toni Bou - 21

2. Takahisa Fujinami - 38

3. Adam Raga - 44

4. Jorge Casales - 60 (18 cleans)

5. James Dabill - 60 (17 cleans)

6. Jeroni Fajardo - 63

7. Matteo Grattarola - 64

8. Jaime Busto - 83

9. Franz Kadlec - 85

10. Albert Cabestany - 89 (13 cleans, 4x1)

11. Miquel Gelabert - 89 (13 cleans, 2x1)

12. Eddie Karlsson - 96

13. Alexandre Ferrer - 101

14. Oriol Noguera - 107

15. Loris Gubian - 125

16. Gianluca Tournour - 143

17. Ole Kristian Sorensen - Retired

Trial2 Results

1. Gael Chatagno - 46

2. Jack Price - 50

3. Dan Peace - 65

4. Iwan Roberts - 67

5. Marc Riba - 78

6. Arnau Farre - 85

7. Pierre Sauvage - 92

8. Teo Colairo - 100

9. Filippo Locca - 100

10. Luca Petrella - 101

11. Sondre Haga - 121

12. Samuel Obrado - 128

13. Noe Pretalli - 128

14. Gabriel Marcelli - 130

15. Jarmo Rorahn - 140

16. Maxime Varin - 152

17. Gabriel Giro - 167

18. Robert Schiek - 167

19. Remy Corna - 172

Trial125 Results

1. Jack Peace - 24

2. Max Faude - 43

3. Eric Miquel - 85

4. Keiran Touly - 87

5. Paul Mehu - 87

6. Christopher Wengler - 92

7. Mikkel Brade - 101

8. Hogan Connor - 121

9. Gerard Trueba - 147

pdf Download Full Results (195 KB)
Photo Coverage
Trials Central Supporters - Hi-res and unwatermarked gallery of 130+ images from the first day in France can be accessed by clicking here.
Free Public Gallery